Feature Story
Health Center Today, October 22, 2009
It's Time to Celebrate
By Chris Kaminski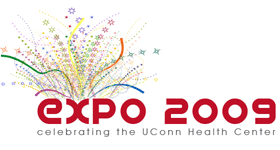 Have you ever noticed how individuals look forward to celebrating events like holidays and birthdays? The Health Center is adding its own event to the calendar. Expo 2009: Celebrating the UConn Health Center takes place Tuesday, November 3, from 7 a.m. to 5 p.m. in the Food Court and Onyiuke Dining Rooms.
The day-long festival is designed in the spirit of recognizing and celebrating the entire Health Center community. "Expo 2009 is a chance to laugh, share, and reflect on our many accomplishments. We're faced with challenges every day and sometimes we can lose sight of our many successes and achievements." says Dr. Cato T. Laurencin, Vice President for Health Affairs.
Expo 2009 was inspired by Disney World's Epcot® Center. Like Epcot, the Health Center is a showcase of cutting edge services and technology, imagination and diverse talents. The event will highlight and celebrate the many talented people who make the Health Center such an exceptional organization. There are many different groups from across the Health Center participating in Expo 2009 and they have come up with some very exciting and creative concepts. The festival is meant for individuals to relax and have some fun while at the same time learning and appreciating all that makes up the UConn Health Center.
Expo 2009 highlights include:
Recognition - Know Better Place will honor 700 employees who are celebrating 5, 10, 15, 20, 25, 30, 35 and 40 years of Health Center years-of-service, as well as retirees. In addition, the Dr. Peter J. Deckers Employee Appreciation Award will be given.
ART: an expression of diversity - A comprehensive display of all mediums of visual and performance art created by Health Center artists will be on display.
Celebrate 48 - An exhibit of Health Center memorabilia will be on display showcasing forty-eight years the Health Center has been creating a culture of greatness.
Ultimate Food Throwdown - Health Center employees will be center stage during a 5-ingredient food challenge. In addition, a cake decorating competition will be featured. For those who cannot attend the expo, a cake submission can be made.
The Global Community - The Diversity Allies will display a world map where employees, students and volunteers mark their birth country. For those who are unable to attend the Expo, they can visit the UCHC Global Community web page and submit their information to be placed on the map.
The Power of Giving - The UConn Foundation, Health Center Auxiliary and volunteers will highlight how powerful the effect of support is to our research, patient care and education.
Helping Hands - A photographic journey around the globe will be on exhibit showcasing Health Center faculty, staff, students, and volunteers who fulfill the mission of the Health Center outside its walls every day - in the community, the region, the country and around the world.
Expo 2009 is hosted by Human Resources through Know Better Place. Both are committed to celebrating and recognizing all the members of the organization throughout the Medical, Dental, and Graduate Schools, Correctional Managed Health Care, John Dempsey Hospital, University Medical Group, and Central Administrative Services.
Visit Know Better Place for further Expo 2009 information.