Feature Story
Health Center Today, October 29, 2009
Dental School Students Organize General Dentistry Interest Group
By Chris DeFrancesco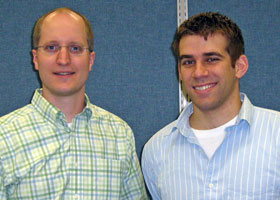 Third-year students Jonathan Zahner (left) and Frank Powers have organized a general dentistry interest group at the UConn School of Dental Medicine.
General dentistry students at the UConn School of Dental Medicine now have their own interest group.
Third-year students Frank Powers and Jonathan Zahner, the student facilitators, say more than 30 students responded to a survey of interest welcoming the idea of a group devoted to general dentistry. The School of Dental Medicine has student-run interest groups for several dental specialties.
Dr. Jonathan Meiers, chair of the Division of Operative Dentistry, is the faculty adviser.
Organizers say the purpose of the general dentistry interest group is to provide a forum for students interested in a career in general dentistry to connect with each other and the dental community, and to explore topics not covered in the dental school curriculum, the hope being it will accelerate studentsí interest in general dentistry in the coming years.
The group invites speakers from within and beyond the dental school to its lunch and dinner meetings.