Feature Story
Health Center Today, October 2, 2009
Understanding a Woman's Heart
By Chris Kaminski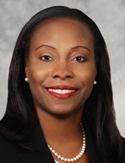 Dr. Anjanette Ferris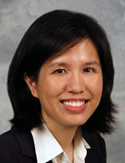 Dr. Joyce Meng
Heart disease affects both men and women almost equally; however, women are uniquely different and often experience symptoms of heart disease differently than men. Experts from the Pat and Jim Calhoun Cardiology Center will present the latest information on women's heart disease and offer tips and advice for reducing heart-related problems at a free Discovery Series program Tuesday, October 13, at 7 p.m. in the Keller Auditorium at the UConn Health Center.
The program's main speakers are female cardiologists. "The Calhoun Cardiology Center is fortunate to have not only one but two highly trained female cardiologists who can address the unique concerns of women," says Dr. Bruce T. Liang, director of the Center.
Chest pain in women is not always a symptom of heart disease. Dr. Joyce Meng will address chest pain and when it's an indication of a heart attack; as well as diagnosing heart disease in women. Dr. Anjanette Ferris will present strategies for reducing cardiovascular risk. Dr. Jason W. Ryan will moderate the question and answer portion of the program.
The Discovery Series is a long-standing community education program that offers information on a wide variety of health topics. The monthly programs are free and open to the public. Registration is required as the programs are very popular and seating is limited. To register for the October 13 program, call 800-535-6232 or register online at discoveryseries.uchc.edu.