Feature Story
Health Center Today, October 1, 2009
Health Center Is Thinking Pink
By Maureen McGuire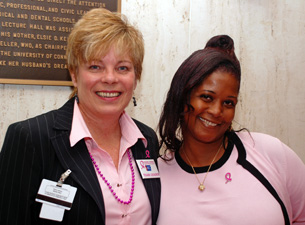 Lynn Brown, the Health Center's Team Captain, and Tina Malone, a breast cancer survivor who spoke at the Making Strides kickoff.
Photo by Janine Gelineau
The Health Center is walking the walk and talking the talk this year during Breast Cancer Awareness Month. Throughout October, experts with the Carole and Ray Neag Comprehensive Cancer Center will be featured in media stories to help raise awareness about breast cancer; a team from the Health Center will participate in the annual Making Strides Against Breast Cancer Walk on October 18; a free educational program will be held for breast cancer survivors on Wednesday, October 28; and more.
"Breast Cancer Awareness Month is the perfect time to remind women to stay on schedule with screening tests such as annual mammography," Dr. Carolyn Runowicz, director of the Neag Comprehensive Cancer Center, said during a recent interview with FOX 61. She noted that it is also a good time for women to learn more about their unique risk factors for breast cancer.
"Women who are at higher risk can take advantage of advanced screening tools as well as clinical trials aimed at prevention," she added.
Dr. Runowicz, Dr. Molly Brewer and genetic counselor Jennifer Stroop were recently featured in a series of news stories about an inspiring young woman who received life-saving care at the Neag Comprehensive Cancer Center. Watch the stories >
In addition, Dr. Runowicz will be featured for the next two weeks on NBC Connecticut promoting the Making Strides Against Breast Cancer Walk. Dollars raised through the October 18 walk will help the American Cancer Society support research here at the Health Center as well as programs for our patients such as "Look Good, Feel Better" and "Reach to Recovery." To register for the walk, call the Health Center's team captain, Lynn Brown, at 860-679-3927 or visit the Making Strides website.
Living a healthy life after breast cancer will be the focus of "Breast Cancer and Beyond: A Conversation with the Experts," a free interactive educational program on October 28. The program is being presented by the Clinical and Translational Breast Program and the Connecticut Breast Health Initiative. To learn about this program and its speakers, visit http://discoveryseries.uchc.edu.
And there's more. A benefit concert for breast cancer research will be held on October 14 at Murphy and Scarletti's, and a dress down day will be offered on October 16 to support the Health Center's Making Strides team, and raffle tickets are on sale every day this month to benefit the William Raveis Patient Navigator Program. Watch Broadcast Messages and Health Center Today for more details.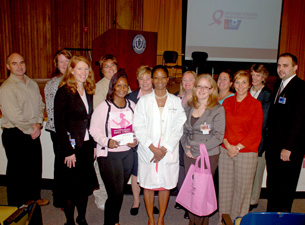 Team members at the Making Strides kickoff.
Photo by Janine Gelineau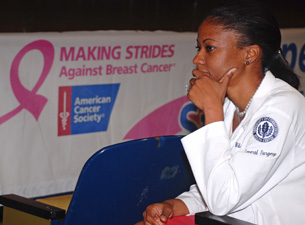 Dr. Lori Wilson listens to Tina Malone's inspiring talk.
Photo by Janine Gelineau