Feature Story
Health Center Today, September 11, 2009
School of Dental Medicine Launches New Alumni Association
By John Sponauer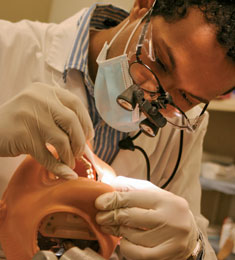 For the nearly 1,400 alumni of the UConn School of Dental Medicine, keeping in touch with each other and their alma mater is now easier, thanks to the creation of a new alumni association.
The alumni association, coordinated by the Office of Development and Alumni Relations, held its second board meeting on June 16, and the group's officers see tremendous potential ahead for both the University and association members.
"There is a definitely a need for a group like this, and I think the school deserves it," says association board president Bill Gagnon, D.M.D., '84. "It's a unique place, with smaller classes than many other schools and a different approach to educating and training dentists. UConn gave me the opportunity to do what I've done for 24 years, and I want to give back. Helping to establish the association offered the chance to do just that."
A key component of attracting and involving alumni will be through the new online community established by the Office of Development and Alumni Relations. The site, which also will integrate with Facebook, allows alumni to share and post news and updates, register for events, see available professional opportunities, volunteer to be a mentor and much more. It provides a lifetime e-mail address for alumni.
Michael D'Occhio, D.M.D. '04, serves as vice president of the association. He says the online community, and his desire to actively seek input from alumni, will help attract a younger generation of members than in-person meetings might.
"I think it's important for the school to hear the perspective of our younger alumni," he says. "Dentists often end up working in a small setting, without a lot of chances to interact with others in the field, much less those they may have gone to school with. Through the online community, everyone has easy access. We don't have to wait for an annual reunion or event. It's real time, and you have all of the information at your fingertips."
There are no dues to join the association. Alumni will soon receive their login information for the online community in the mail.
Dean Monty MacNeil, D.D.S., M.Dent.Sc., says that the group will fill a vital link in not only allowing alumni to communicate with each other, but also serve as ambassadors of the school in the state and across the region.
"Committed alumni are, ultimately, the legacy of any school," he says. "The School of Dental Medicine is very fortunate to have an alumni base that is accomplished professionally, dedicated to advancement of the field and a wonderful showcase of the strength of the Health Center and the entire University. I expect big things to come."
For more information about the online community or the School of Dental Medicine Alumni Association, please visit alumni.uchc.edu or contact Susan Andersen, program director of alumni relations, at 860-679-3801 orsandersen@foundation.uconn.edu.