Feature Story
Health Center Today, September 11, 2009
A New Study Aimed at Helping Asthma Sufferers Breathe Easier
By Carolyn Pennington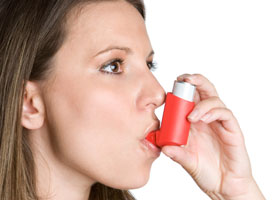 Asthma, a chronic lung disease and significant public health burden, affects more than 22 million Americans. It causes the airways - the tubes that carry air in and out of your lungs - to become sore and swollen. Asthma exacerbations result in about 10 million missed work days and almost 13 million missed school days each year in the United States.
Asthma is treated with two kinds of medicines: quick-relief medicines to stop asthma symptoms and long-term control medicines to prevent symptoms. With today's knowledge and treatments, most people who have asthma are able to manage the disease.
But there are some patients who have poorly controlled asthma despite being on at least one controller such as inhaled steroids. That means they still have asthma symptoms several times a week and often need to use their short acting inhaler.
Dr. Mark Metersky, pulmonologist at the Health Center, is conducting a research study involving a potential new asthma drug specifically targeting patients with hard-to-control asthma.
If you are 18 to 75 years of age, a non smoker and need to use your short-acting "rescue" inhaler at least 3 times a week, despite taking at least one other medication for your asthma (such as inhaled steroids), you may be eligible to participate in the study.
All participants in the four-month long study will be asked to take periodic breathing tests and to keep track of their symptoms and inhaler use. Participants will be reimbursed for their time. If interested, call Ruth Howard at 860-679-4903. IRB # 08-287-1