Feature Story
Health Center Today, September 24, 2009
The Vote Is In! UConn Health Center Doctors Are the Best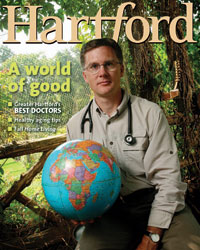 Hartford Magazine's October issue features "Best Doctors." On the cover, UConn Health Center's Dr. Kevin Diekhaus is highlighted for his volunteer efforts in Uganda.
By Chris Kaminski
Having the largest multi-specialty group of physicians in the Hartford area practicing at the UConn Health Center is an impressive fact. An even more impressive fact is the number of Health Center physicians recognized as being the "best doctors" in the region.
Earlier this year, six Health Center physicians were named to the prestigious "America's Top Doctors" list, the largest number of physicians named to the list in the region. Physicians are nominated by their colleagues who they feel are clinically outstanding, both on the regional and national level and who demonstrate interpersonal skills such as listening and communicating effectively, demonstrating empathy, educating and informing, and instilling trust and confidence. During the selection process, extensive interviews by telephone are conducted with leading physicians, specialists, chiefs of service and healthcare executives to strengthen the information-gathering processes.
The October issue of Hartford Magazine contains the annual "Best Doctors" list with more than 300 physicians in more than 50 specialties named in greater Hartford. Of those physicians, 64 see patients at the UConn Health Center in a wide variety of specialties ranging from cardiology to orthopaedics. To be included on the Best Doctors list, physicians nominate other doctors who they feel are outstanding in various specialties, who exhibit excellence in patient care, and someone to whom nominating physicians would send members of their own family.
"We are truly honored and proud to have so many of our physicians recognized as "Best Doctors" and "America's Top Doctors" by their peers in the community. As the Health Center is the only academic medical center in the region, it's our mission to provide the community with world-class doctors and state-of-the-art care," says Dr. Cato T. Laurencin, vice president for health affairs and dean of the School of Medicine.