Feature Story
Health Center Today, September 30, 2009
Jazzing It Up for Breast Cancer
By Chris Kaminski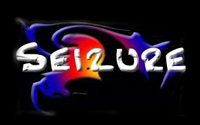 Question: What does jazz music and breast cancer have in common?
Answer: A benefit concert.
The jazz group Seizure, composed of UConn Health Center current and former faculty and staff, is hosting a concert Wednesday, October 14, from 5:30 to 9 p.m. at Murphy & Scarletti's in Farmington. The concert coincides with the release of their new CD titled "Grand Mal." Proceeds from the event will benefit the UConn Health Center's Breast Cancer Program.
The group was formed approximately eight years ago in the Health Center cafeteria, according to band member Len Paplauskas. "One day during lunch, I mentioned that I started playing the sax again after a 30-year hiatus. The comment sparked the interest of other individuals at the table who played various instruments and that's how we got started," says Paplauskas. Members of the group include Paplauskas on tenor sax, Les Bernstein on bass, Ken Price on guitar, Tony Voytovich on alto sax, and Rich Ruotolo on drums.
The members of Seizure have wanted to give back to the Health Center for some time. Because many of the band member's lives have been touched by breast cancer, the idea of hosting a concert to benefit the Breast Cancer Program was a wonderful way to give back. The Health Center has a comprehensive team of clinicians, researchers and other healthcare professionals working together towards a cure for breast cancer.
For a $10 ticket donation, concertgoers will be treated to a buffet and receive a copy of the "Grand Mal" CD. Tickets can be purchased at the door or by calling 860-679-3478. The concert is being supported by AstraZeneca Pharmaceuticals, Genentech, Inc., Murphy & Scarletti's and Seizure.