Feature Story
UConn Today, September 21, 2009
New Board Chairman Calls for Pursuit of Excellence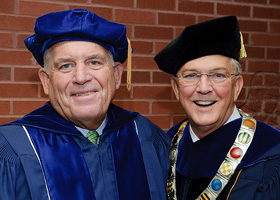 Lawrence McHugh, left, chairman of the Board of Trustees, with President Michael Hogan before the Convocation ceremony at Gampel Pavilion.
Photo by Peter Morenus
By Michael Kirk
When Gov. M. Jodi Rell asked Lawrence McHugh to be the new chairman of UConn's Board of Trustees, he was excited. He says he knew UConn was a top-notch university that could reach still higher, and, like every other public institution, was in the midst of tough budget times.
"The governor is a big supporter of higher education," says McHugh, who began as chairman this summer. "And she also knows that higher education is the biggest economic generator we have in Connecticut. We both firmly believe that investing in UConn is investing in our renewed economic health and continued growth as a state."
McHugh replaces Dr. John W. Rowe, who stepped down after serving as chairman of the Board of Trustees for six years.
McHugh believes that Connecticut and the state legislature cannot afford to forget that one of the state's greatest assets is its "brain power."
"Basically we have to develop pipelines of people who want to stay in Connecticut and fill jobs here," he says. "We are blessed at this point to have an excellent system in UConn, and I'm certainly not going to see us slip backwards when we have an opportunity to move forward."
McHugh is no stranger to higher education: for more than 25 years he served on the board of trustees for the Connecticut State University system, and prior to that served on the Connecticut Student Aid Commission.
"Both were great experiences," he says. "They gave me a very strong understanding of higher education in the state, as well as the workings of state government."
McHugh, 69, is a Connecticut native who was signed to play for the AFL football team the New York Titans in 1961, but was sidelined due to an injury the following year. He went on to be a high school teacher and longtime football coach before going into business.
His resume is a litany of civic involvement and awards stretching over three decades. The role that has been his most visible is as president of the Middlesex County Chamber of Commerce in Middletown since 1983, bringing the group from a small organization to a regional powerhouse.
McHugh says he is looking forward to leading the board at UConn.
"UConn is one of the best universities the nation and of course the best public university in the region," says McHugh, "I agree with President Hogan when he says that we can do even better and move into the top 20 among research universities nationally. We should always strive for excellence."
Moving forward, to him, says McHugh, means working together as one institution.
"It's not only the board in terms of leadership, but faculty, staff, and students too," he says. "We have a great relationship with the state and our unions, and working as one is very important to me. I am a firm believer in making sure everyone knows they have a stake in our future direction."
But it will not be without challenges. McHugh cites the proposed merger of the UConn Health Center as a critical priority.
"That's something that merits a lot of effort right now," he says.
He has spent his initial weeks as board chairman visiting with all the various groups involved in some way in the issue – whether they are in favor of the merger plan, opposed to it, or neutral.
"I'm talking to all sides," says McHugh, "and after I meet with all the different constituent groups, I'll be meeting with the governor and President Hogan on this issue to continue the discussions."