Feature Story
Health Center Today, September 29, 2009
Dental Researchers Study Potential Treatment for Common Chemotherapy Side Effect
By Carolyn Pennington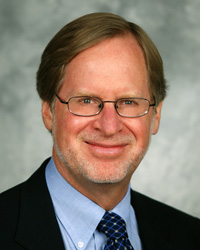 Dr. Douglas Peterson.
Dr. Douglas Peterson is leading a team of researchers who are studying treatments to prevent oral mucositis in patients undergoing high-dose cancer therapy. Peterson is a professor of oral medicine in the Department of Oral Health and Diagnostic Sciences in the School of Dental Medicine and is also the chair of the Head and Neck/Oral Oncology Program in the Neag Comprehensive Cancer Center. Peterson and his team authored a paper that was recently published in the Journal of Clinical Oncology. The study evaluated the safety and efficacy of a topical oral spray for the prevention and treatment of chemotherapy-induced oral mucositis.
Oncology patients may develop mouth problems during and following cancer treatment, including painful mouth ulcers, infection, taste changes and/or dryness. Relative to the clinical trial, a sore, ulcerated mouth is a frequent side effect of high-dose chemotherapy and/or head and neck radiation. The mouth, as well as the remainder of the digestive tract, contains lining cells (mucosa) that are sensitive to several types of cancer therapies. Injury to these lining cells in the mouth results in oral mucositis, which can appear as redness (inflammation) and sores (ulcerations). The condition can lead to pain that may cause hospitalization and/or cancer treatment interruptions if sufficiently severe.
In the phase II, randomized, double-blind, placebo-controlled study, Peterson and his colleagues tested an oral spray containing recombinant human intestinal trefoil factor (rhITF) administered for approximately two weeks during the period of highest risk development of oral mucositis. They found the spray to be safe and highly effective when used for the reduction of chemotherapy-associated oral mucositis in patients with colorectal cancer. Future clinical study is planned to develop this drug for use in oral mucositis management in patients undergoing high-dose cancer therapies.