Feature Story
Health Center Today, September 23, 2009
Discovery Series Returns with a Laugh
By Chris DeFrancesco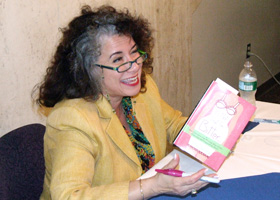 Humorist Gina Barrecca signs her latest book at the September 17 Discovery Series.
The Discovery Series is back for the fall semester. Humorist Gina Barrecca got things started September 17, offering a dose of the healing power of laughter.
The next program is Tuesday, October 13, when Drs. Anjanette Ferris, Joyce Meng and Jason Ryan present "Understanding a Women's Heart." All Discovery Series programs are in Keller Auditorium from 7 to 9 p.m. and are free to attend but require advance registration.
Remaining 2009 Programs
Thursday, November 12: Total Spinal Care presented by the Comprehensive Spine Center
Thursday, December 3: A special presentation by William B. Ershler, M.D., National Institute on Aging, National Institutes of Health