RSS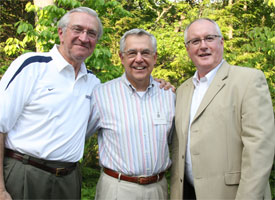 Our loss is immense. Few people in their work and play in life ever become core to the very traditions of an organization – traditions that define the character and identity of that organization and make it unique and special. Richard Garibaldi rose to that level just by being who he was everyday for everyone. Beyond what we do in clinical and academic medicine, Richard was kind and caring, concerned, honest, socially committed and involved, as well as tolerant, understanding and sympathetic. His admiration, respect, indeed love, for all of us was palpable on a moment-to-moment basis. In fact, he became both internal and external to UCHC, a wise, constructive adviser and consultant – indeed, on so many issues, he was the very effective, even-handed go-between for both faculty and administration, bringing wisdom to the most difficult and contentious of discussions. He was the non-judgmental proud voice of the faculty, and for me and my administrative team, the trusted moral conscience of our family during the past two decades. Most of all he was my very close friend and, like all of you, I hurt! Let us together be present and supportive to his wife, Lorraine, and his children and grandchildren, and thank them most sincerely for sharing this special person with us for so long. May Richard rest in the eternal peace he deserves so much!
Peter J. Deckers, M.D.
Dean Emeritus, UConn School of Medicine
Feature Story
Health Center Today, September 4, 2009
Remembering Dr. Richard Garibaldi
By Joseph Palmisano, M.D., and Cato T. Laurencin, M.D., Ph.D.
It is with profound sadness that we inform you of the passing of Richard A. Garibaldi, M.D., the James E.C. Walker/PHS Professor of Medicine and former Chairman of the Department of Medicine, following a lengthy illness.
Dr. Garibaldi, a graduate of Harvard School of Medicine, 1967, served his Medical Internship and Residency on the Harvard Service at Boston City Hospital (1967-69). He then performed his Infectious Disease Fellowship at the CDC and the University of Utah College of Medicine (1969-73). From 1973-81 he was a faculty member at the University of Utah Medical Center rising to the rank of Associate Professor of Medicine and serving many roles including that of hospital epidemiologist.
In 1981, Dr. Garibaldi was recruited by Dr. James W. Freston, then Chairman of Medicine, to join the faculty at the University of Connecticut Health Center. This led to his promotion to Professor of Medicine (1982) and service as Vice Chairman of the Department of Medicine (1981-97), Chief of Infectious Disease Division (1981-90) and Program Director for the Internal Medicine Residency Training Program from 1982-97. From 1997-2006 Dr. Garibaldi served as Chairman of the Department of Medicine before returning to his origins as UConn Health Center hospital epidemiologist. Dr. Garibaldi was the author of more than 80 articles in the medical literature and more than 20 books and book chapters in the disciplines of infectious disease, hospital epidemiology and graduate medical education. He played leadership roles in many of the professional organizations which shape academic medicine and graduate medical education including the American College of Physicians, the American Society of Internal Medicine, the Association of Program Directors in Internal Medicine, and others.
Throughout his career, Dr. Garibaldi was a first and foremost a clinician who always made time for his patients. His reputation as a skilled clinician made him the primary care physician for faculty, hospital staff members, the famous and the poor. In his tenure as Internal Medicine Residency Program Director, Dr. G was the much loved mentor of hundreds of medical students, residents and fellows. Dr. G's door was always open. He always made time to listen. His encouragement, support and insight were freely given. His stature as a medical educator was reflected in his many Teaching Awards from the Internal Medicine Residency Program and the recent dedication of the Richard A. Garibaldi Humanitarianism in Medicine Award by the UConn School of Medicine. As Chairman of Medicine, Dr. Garibaldi guided the Department through challenging times with constant effort to protect the professional environment and to advance the academic mission of the Health Center. It is clear that Dr. Garibaldi has left an indelible mark on the University of Connecticut Health Center and the region's medical community.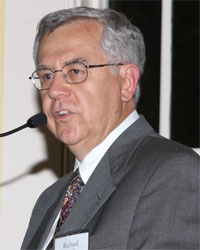 At the family's request The Richard A. Garibaldi, M.D. Memorial Fund in support of Graduate Medical Education has been established. Donations should be made payable to:
UConn Health Center
ATTN: Department of Medicine
Richard A. Garibaldi Memorial Graduate Medical Education Fund
MC 3229
263 Farmington Avenue
Farmington, CT 06030-3229
A Mass of Christian Burial will be held on Saturday, September 12, at 11 a.m. at the Church of St. Timothy, 1116 North Main Street, West Hartford. A memorial service will be held at the UConn Health Center Monday, September 21, at 5 p.m. in the Keller Auditorium. All are invited.