Feature Story
Health Center Today, September 16, 2009
Neag Comprehensive Cancer Center Leading Regional Research Network
Greater Hartford Collaboration to Focus on Gynecologic Oncology
By Chris DeFrancesco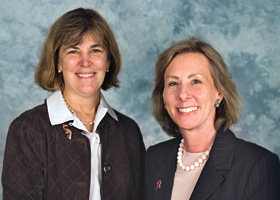 Drs. Molly Brewer and Carolyn D. Runowicz, Carole and Ray Neag Comprehensive Cancer Center.
Giving more women access to life-saving clinical studies is the goal of a new partnership of regional gynecologic cancer programs led by the University of Connecticut Health Center.
The announcement from the Carole and Ray Neag Comprehensive Cancer Center coincides with National Gynecologic Cancer Awareness Month and National Ovarian Cancer Awareness Month.
"Gynecologic cancers, in particular ovarian cancer, can be difficult to detect in early stages and remain a challenge to cure," says Dr. Carolyn D. Runowicz, director of the Neag Comprehensive Cancer Center. "New research initiatives and clinical trials are critical to advance and improve care for women with cancer."
Runowicz, a nationally recognized gynecologic oncologist, is lead investigator of the new partnership.
"Participation in clinical trials varies widely among the oncologic community in Connecticut," Runowicz says. "Although about 20 percent of patients with cancer are medically eligible for a clinical treatment trial, only about 3 percent enroll. The rate is even lower among people of color and the medically underserved."
The collaboration with the cancer centers at Hartford Hospital, St. Francis Hospital and Medical Center, and the Hospital of Central Connecticut, as well as with private practitioners and other regional cancer centers, "will ensure the widest distribution of information and education about the open gynecologic oncology clinical trials in the greater Hartford Community," Runowicz says.
The pilot project, titled "Gynecologic Oncology Clinical Trials – Greater Hartford Area," is made possible by a $50,000 grant from the state Department of Public Health and Yale University School of Medicine. Other objectives include:
Disseminating standards of care in the management of women with gynecologic cancer.
Developing a program to educate professionals and the public on the role and importance of clinical trials in gynecologic oncology.
Identifying and overcoming barriers for minorities and the underserved.
"This is a tremendous opportunity to broaden patient access to gynecologic oncology trials, which can benefit not only individual patients, but also the advancement of the science," says Dr. Molly Brewer, director of UConn's Women's Cancer Prevention Program.
More information is available by calling 800-535-6232.