Feature Story
Health Center Today, September 8, 2009
Mentoring, Mother's Professional Influence Leads to a Lifetime of Success for Laurencin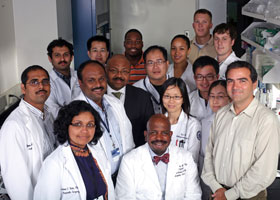 Dr. Cato T. Laurencin, vice president for health affairs and medical school dean, (front center) in his research lab with a group of scientists he mentors. Laurencin and his wife, Cynthia, have started a fellowship fund for medical students who conduct research and mentor inner-city youth.
By John Sponauer
His career has taken him to the forefront of musculoskeletal care and research, recognition by the White House, national prominence in his field, and the helm of the UConn Health Center as the vice president for health affairs. However, the inspiration that started Cato T. Laurencin, M.D., Ph.D. down the road of medicine was provided by his mother, who operated a clinical practice and research laboratory on the first floor of the family's row house in North Philadelphia.
It is in her name and honor that Laurencin and his wife, Cynthia, have now created a fellowship for UConn School of Medicine students. The Helen I. Moorehead-Laurencin, M.D. Research Fellowship Fund supports students who have demonstrated academic achievement and are involved in conducting summer research projects. He says the emphasis on research perfectly matches his mother's passion for understanding the science of medicine.
"My mother was the ultimate clinician and scientist; an urban clinician-scientist, really. She was a superb clinician and, at the same time, someone who kept a small laboratory in the back of her office, where she studied anatomy, physiology, the disease process and much more," Laurencin says. "The goals of our gift are consistent with everything she had done in her life."
The fellowship addresses the other area of focus of Moorehead-Laurencin's life: ensuring that young people have a mentor. Recipients must provide mentorship to an inner city high school student in the Hartford region. Laurencin says that his mother sought out and assisted young people in their neighborhood, encouraged them to pursue careers in medicine and science, and counseled those around her.
"It really was amazing to watch," he says. "She had a personal commitment to the next generation, to young people and their careers. So it felt naturally appealing to me to include a mentoring component in our fund, because of the influence that was there. I believe that, in many ways, an academic environment requires mentoring for success."
In addition to contributing a major gift to create the fund, Laurencin will also utilize an additional $10,000 presented to him as a recipient of the 2009 Presidential Awards for Excellence for supporting student research experiences. The award recognizes individuals who have successfully mentored underrepresented students studying science or engineering.
"There is no higher calling than furthering the educational advancement of our nation's young people and encouraging and inspiring our next generation of leaders," President Barack Obama said in a July 9 press release announcing the list of recipients.
Laurencin cites the support of many mentors throughout his own career, including international bioengineering expert Robert S. Langer, Ph.D. of M.I.T., acclaimed orthopaedic surgeon Henry Mankin, M.D., and Louis W. Sullivan, M.D., the former secretary of the Department of Health and Human Services. While Laurencin always knew he would be a clinician, the influence of his mother and mentors forced him to "look at the breadth of opportunities that were available," he says.
"Mentoring relationships are important throughout one's career, and I understand the benefits of being on both sides of the experience," he says. "While we've started this fellowship, obviously others can contribute to it as well, and I would welcome them to do so."
For more information about contributing to the Helen I. Moorehead-Laurencin, M.D. Research Fellowship Fund, please contact Dina Plapler at 860-679-8077 or dplapler@foundation.uconn.edu.