Feature Story
Health Center Today, September 1, 2009
Programs for Health Careís Underrepresented Prepare Students for Dental, Medical School
By Chris DeFrancesco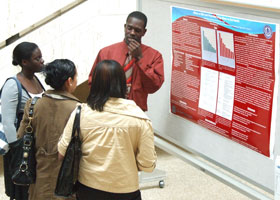 Pernell Rogers, a senior cell and molecular biology major at UConn, concludes his six-week study in the Clinical Summer Research Fellowship Program with a poster presentation on drug abuse and oral health. Rogers hopes to pursue his D.M.D. at the UConn School of Dental Medicine.
Pernell Rogers believes drug abuse is a common problem that is only going to get worse, and he wants to do something about it.
"Ignoring drug abusers isnít going to help anything," Rogers says. "What we need to do is seek them out and give them all the help we can, because as primary care providers, thatís our job, to help the community as a whole. Everybody."
Rogers isnít a primary care provider. He isnít even done with college yet. But before returning to UConn for his senior year studying cell and molecular biology, this aspiring dentist was one of seven undergrads to participate in the UConn Health Centerís 2009 Clinical Summer Research Fellowship Program.
For six weeks, he split his time working at the Hartford Dispensary, a methadone clinic, and shadowing dentists in the community, all the while gathering information for the poster presentation he would make on the programís last day, July 24. His focus was on the direct and indirect effects drugs have on oral health.
"It was very informative," Rogers says. "It opened my eyes to a whole other side of dentistry."
Dozens of aspiring physicians and dentists are returning to college this fall with a jump on their medical education after spending part of their summer in one of the Health Centerís summer enrichment programs, sponsored by UConnís medical and dental schools under the Aetna Health Professions Partnership Initiative.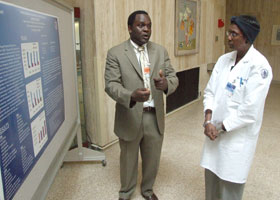 Johnson Prophete, a senior biology major at UConn, explains his summer research on how needle exchange programs can reduce the spread of disease in inner cities to Dr. Marja Hurley, director of UConnís Health Career Opportunities Programs. Prophete says he plans to pursue the dual degree of M.D./Ph.D. and focus on public health.
"The idea of these programs is to increase the number of students who are aware that there are opportunities for them in the health professions," says Dr. Marja Hurley, director of UConnís Health Career Opportunities Programs. "In particular, the Clinical Summer Research Fellowship Program will allow students to be more critical when they read about health care disparities and what needs to be done. Having had the experience of actually contributing to research in this area will clearly be helpful to them."
Adds Stacey Brown, director of the Community Based Education Program, "The entire program offers superb preparation for students interested in the health professions, and the Clinical Summer Research Fellowship program provides an additional, unique community and research component. The students get practical experience which they find invaluable and the community organizations we work with get help with research that has the potential to improve the care and services they offer. Itís a win-win situation."
Valen Diaz, a UConn junior whoís a member of the Combined Program in Medicine, graduated from the first Clinical Summer Research Fellowship in the summer of 2008. This summer she returned to the Health Center for the MCAT Preparation Program, which is for students whoíll be taking the Medical College Admission Test.
"Iíve been thinking of medicine as a career for as long as I can remember," Diaz says. "I always looked at medicine as something challenging, something new, something to keep me on my toes, and a way to give back."
Diaz, whoís worked at the Hispanic Health Council in Hartford each of the last two summers, says her experience there "changed my course of undergraduate study." She went from an undecided freshman to a psychology major to an individualized major in health disparities.
"The pediatric care coordination program run by the Hispanic Health Council and Connecticut Childrenís Medical Center enabled me to shadow and interview care coordinators and exposed barriers we donít think about in everyday life," Diaz says.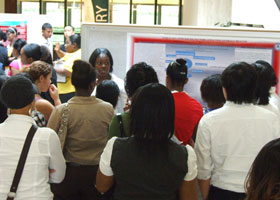 Students crowd around Dajia Shields, a sophomore biology major at Spelman College in Atlanta, as she presents her summer research on health-related stresses on Puerto Rican women. Shields, whoís from Memphis, Tenn., says sheís interested in becoming an obstetrician/gynecologist and practicing community-based medicine.
Diaz is Hispanic. Rogers is African-American. So is Dajia Shields, an aspiring obstetrician-gynecologist and 2009 clinical summer research fellow.
A primary goal of the Health Career Opportunities Programs is to attract students from diverse groups that are underrepresented in American health care professions and in doing so, focus on health disparities, cross-cultural issues and public health.
Shields, from Memphis, Tenn., is a sophomore at Spelman College in Atlanta majoring in biology.
"Through this program I was able to shadow an ob-gyn as well as a pediatrician, just to give me both experiences," Shields says. "My focus is in womenís and childrenís health."
When she wasnít shadowing physicians at the Burgdorf Health Center, a community clinic serving the underserved population in Hartfordís north end, Shields was conducting research at the Hispanic Health Council.
"What I was examining was how certain social factors, such as food security, education, income level and poverty, create stress among Puerto Rican women, and how the stress affects their maternal health," Shields says.
A total of 364 students applied for one of the Health Career Opportunities Programs at the Health Center; 44 got in this summer.
"The students have indicated that this is an absolutely wonderful experience and exposure that will help them to think differently as they progress toward preparing themselves to enter medical or dental school," Hurley says.