RSS
Dr. Albertsen on WTIC NewsTalk 1080

Listen to Dr. Peter Albertsen discuss his prostate cancer research
Feature Story
Health Center Today, September 16, 2009
JAMA Study: Improvements in Alternative to Surgery or Radiation to Treat Prostate Cancer
By Chris DeFrancesco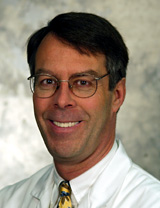 Dr. Peter Albertsen.
A study in the September 16 Journal of the American Medical Association suggests outcomes for conservative management of localized prostate cancer are improving.
Dr. Peter Albersten, professor of surgery, associate dean for clinical research, and associate dean for faculty affairs, is second author of the study, which compared outcomes of different eras of conservative treatment for localize prostate cancer. It found that overall and prostate cancer-specific survival rates are higher for men diagnosed from 1992 through 2002 compared to those diagnosed in the 1970s and '80s.
Possible reasons for this include additional lead time, overdiagnosis related to PSA testing, and advances in medical care.
Conservative management, as an alternative to surgery or radiation, generally includes active surveillance or deferral of treatment until necessitated by disease signs or symptoms.