Feature Story
Health Center Today, April 16, 2010
Health Center Nurse Practitioners Among First to Complete New Doctorate Program
By Maureen McGuire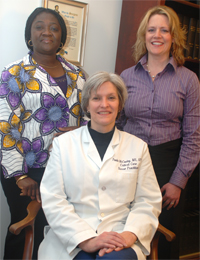 First Among New Group of Doctorates: from left to right, Victoria Odesina, Karen Myrick and, seated, Paula McCauley will be among the first class to graduate this May from a new doctorate program in nursing practice.
Photo by Janine Gelineau
Improving care for patients at risk for osteoporosis; minimizing pain for patients with sickle cell disease; preventing central line infections for critically ill patients: these are the quality-improvement goals that fueled the work of three Health Center nurse practitioners who recently completed a rigorous new doctorate program in nursing practice.
Next month, Karen Myrick, Victoria Odesina and Paula McCauley will be among the first class to graduate from the School of Nursing's Post-Master's Doctor of Nursing Practice (DNP) program – the only program of its kind in Connecticut and just the second in New England.
Unlike other doctoral programs in nursing offered at UConn and elsewhere, the DNP program is practice-focused rather than research-focused. It emphasizes innovative, evidence-based approaches to improve patient care. It is a relatively new discipline; the American Association of Colleges of Nurses (AACN) began developing the curriculum in 2005.
The program includes a rigorous course load in eight essential areas specified by the AACN. Students also have the opportunity to specialize in an individual area. For the Health Center DNP candidates, choosing their individual projects came naturally.
Following Red Flags for Osteoporosis
Myrick, who sees patients in the Department of Orthopaedic Surgery, part of the New England Musculoskeletal Institute, wanted to look at ways to improve care for patients who suffer from "fragility fractures." Often occurring in the elderly, these are broken bones that result from simple falls from low heights and can be red flags for osteoporosis (low bone mass).
Myrick developed a three-point process for patients who suffer fragility fractures. This involved making sure the patients were sent for a DEXA scan to detect osteoporosis within three months; notifying the patient's primary care physician about the fracture; and if necessary, referring the patient to the UConn Center for Osteoporosis for ongoing care.
With the process in place, Myrick reached 100 percent compliance for a statistically valid sampling of patients.
"The result was very gratifying," she said, noting that the "DNP is the perfect role to affect change through quality improvement projects."
Easing Pain for Patients with Sickle Cell Disease
Odesina, who divides her time between the Health Center's HIV program, the keloid project and the sickle cell service, focused her project on improving care for patients who come to the Emergency Department because of acute pain caused by sickle cell disease.
"Acute sickle cell pain has been historically undertreated and patients endure unnecessary delays in treatment," Odesina said, noting that sickle cell disease causes painful blockage of blood vessels and left untreated, can lead to serious consequences including organ damage.
For her project, Odesina conducted extensive research, looked at current practices, reviewed guidelines from sources such as the American Pain Society and ultimately developed a clinical pathway, in collaboration with a multidisciplinary team, to train Emergency Department nurses on how and when to administer specific pain medications and protocols for patients in need. She developed two education programs completed by the Emergency Department and inpatient nurses on the topic of sickle cell pain management.
"The goal is to identify and alleviate sickle cell pain faster and find ways to make sure patients are admitted, when necessary, in a more timely fashion," Odesina explained. The pathway has just been implemented but she is optimistic about its outcome – and sees this as a possible model for other hospitals in Connecticut.
Reducing Rates of Central Line Infections
When McCauley, a nurse practitioner in the Intensive Care Unit (ICU) who is also on faculty with the UConn School of Nursing, was choosing her project, she said she wanted to focus on something that would also be "worthwhile for the hospital." Since most patients in the ICU need central lines -- catheters placed into large veins in the neck, chest or groin to administer medication or infusions – she had a natural interest in helping to prevent infections that can be associated with this important tool.
Her project included an extensive literature review of current practice and guidelines for central line infections followed by a survey of the ICU staff and their beliefs regarding evidence-based practice. From this she developed an education program for ICU nurses which included specific nursing interventions that may impact incidence of central line infections. The next phase will include tracking the incidence of infection, which is projected to decline based on these nursing interventions. In addition, McCauley has shared her education program with other hospital departments who have also begun implementation.
"Overall, the goal is to empower nurses to help prevent infections and improve care," she added.
All three of the new DNPs continued working during their coursework and all three used words like "grueling" and "challenging" to describe how they juggled work, school and family responsibilities during this time. In fact Myrick had a daughter about halfway through the program and often brought her along to classes and seminars. "We think she is an honorary member of the class," Myrick added.
"We are extremely proud of Karen, Vicky and Paula. They are three hard-working women with a commitment to excellence," said Ellen Leone, the Health Center's associate vice president of operations and director of nursing. "All three projects were timely, effective and are helping the hospital and the practice to meet patient safety and satisfaction goals."