Feature Story
Health Center Today, April 7, 2010
Gold Seal: Joint Commission Accreditation for Hospital, Behavioral Health
By Chris DeFrancesco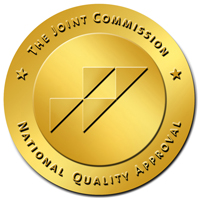 The Health Center has earned full accreditation from The Joint Commission, a national hospital accrediting body, for John Dempsey Hospital and its inpatient behavioral health services.
"Accreditation for our organization demonstrates our commitment to patients' safety and high-quality care," says Dr. Cato T. Laurencin, vice president for health affairs and medical school dean.
The Joint Commission conducted an unannounced, on-site evaluation of John Dempsey Hospital in December. The accreditation award recognizes the Health Center's dedication to complying with The Joint Commission's state-of-the-art standards on a continuous basis.
"Achieving Joint Commission accreditation is a tribute to the work and dedication of our Department of Quality Programs, led by Ann Marie Capo, R.N., M.A., and Scott Allen, M.D., and the outstanding clinicians, staff and administrators here at the Health Center, without whom this would not have been possible," says Dr. Mike Summerer, hospital director.
"Moreover, it demonstrates the excellence we have achieved in a relatively short time frame by virtue of the dedication and hard work of all of you 'Every Day,'" adds Laurencin in a memo to Health Center faculty, staff and students. "This honor only affirms what we already know – that the UConn Health Center is a special place with an extremely talented family. It is a proud time for us."
The Joint Commission's Quality Report for the Health Center is available at http://www.qualitycheck.org/qualityreport.aspx?hcoid=5667.
"Above all, the national standards are intended to stimulate continuous, systematic and organization-wide improvement in an organization's performance and the outcomes of care," says Mark Pelletier, The Joint Commission's executive director of hospital programs, accreditation and certification services. "The community should be proud that the UConn Health Center is focusing on the most challenging goal – to continuously raise quality and safety to higher levels."
With accreditation comes The Joint Commission's Gold Seal of Approval™.