Feature Story
Health Center Today, April 27, 2010
Amy Kiraly Is Enthusiastic About Emergency Medicine
By Carolyn Pennington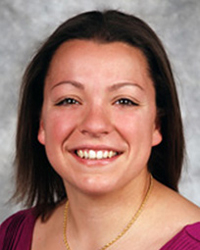 Amy Kiraly
Amy Kiraly made up her mind to become a doctor while sitting in a hospital. Kiralyís father had been diagnosed with kidney cancer and the surgeon who had performed his procedure was explaining treatment options and was not connecting well with her family.
"He was smart and did everything he was supposed to do medically but I felt he missed the ball on the rest of it," says Kiraly. "He didnít pick up on the fact that everyone was frightened. Cancer is an intimidating thing. He was very hands-off and the interaction was just not very good. I remember sitting there that day and thinking ĎI am smart enough to do this and I think I could do this better Ė thatís when I decided to go into medicine.í"
At the time Kiraly, a Watertown native, was a sophomore at the University of Delaware majoring in biology. She was always interested in science but wasnít sure what facet of it she wanted to pursue.
During one of her summer breaks from Delaware, she spent some time at Hartford Hospital doing a research project. During her internship, she visited the UConn School of Medicine for the first time. "I liked the feeling of the school. I had the same feeling with Delaware and it had worked out well, so I went with my gut."
While Kiraly wasnít familiar with UConnís medical school, she grew up watching the UConn womenís basketball team. Kiraly played basketball herself, along with soccer, and she still plays both sports when she can. She has joined recreational leagues with some other med students which gives her a chance to de-stress and unwind from her grueling schedule. "Itís a lot of fun until a teammate gets injured---then everyone looks to me for help," jokes Kiraly.
Her decision to specialize in emergency medicine was not a surprise to her family. Her mother had been an emergency department nurse for years and Kiraly had always loved visiting her mother at work and talking about specific cases. "I liked the pace and the variety. My personality fits well with emergency medicine. I will never be bored," adds Kiraly.
Kiraly also likes the flexible schedule that is typical with working in an emergency department. She hopes the rotating shift cycles will make balancing work and family life more feasible.
For the next four years, Kiraly will be doing her emergency medicine residency at the McGaw Medical Center of Northwestern University in Chicago but she can see herself returning to Connecticut eventually. "Iím really close to my parents (her dad has made a full recovery) and older brother and sister-in-law so I wonít want to be away from them too long."
But for now, Kiraly is ready for the next step. "Medical school has been a real eye-opener. The most challenging thing has been balancing my emotions. Youíre so intimately involved with the lives of your patients that it can be a little overwhelming. You get to meet so many amazing people, courageous people, during happy and sad times."
"Itís a privilege being a doctor and you should never underestimate the impact you have on your patients and that your patients have on you."