Feature Story
Health Center Today, April 15, 2010
Bruce Koeppen to Step Down as Dean for Academic Affairs
As Announced by Dr. Cato T. Laurencin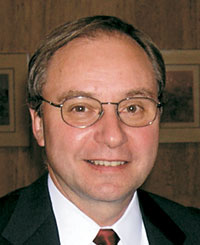 Dr. Bruce Koeppen
Dr. Bruce Koeppen has recently informed me that he will step down as Dean for Academic Affairs at the time he takes his sabbatical leave in May 2011, or sooner if his successor has been named.
Dr. Koeppen has served the Health Center in the Dean's office for the past 20 years and as Dean for Academic Affairs since 2006. Under his leadership, the School of Medicine's curriculum was re-designed and has won national recognition for its innovative features, and positive student learning outcomes. He has been honored locally, regionally and nationally as a gifted teacher and accomplished textbook author with numerous teaching awards from UConn School of Medicine students as well as national societies. Most recently, he was an inaugural inductee into our school's Academy of Distinguished Educators.
He has received the National Board of Medical Examiners highest award and has also been recognized for his service to the Accreditation Council for Continuing Medical Education. Currently, Dr. Koeppen serves as a member of the Liaison Committee on Medical Education, and is chair of its standards subcommittee.
Dr. Koeppen has indicated that he plans to expand the depth and breadth of his teaching role here after he returns from sabbatical. Our students will be the beneficiaries of his expertise as will those of us who are his faculty colleagues.
Cato T. Laurencin, M.D., Ph.D.
Vice President for Health Affairs
Dean, School of Medicine