Feature Story
Health Center Today, April 1, 2010
Nurses from Across the State Attend Neonatal Research Conference
By Carolyn Pennington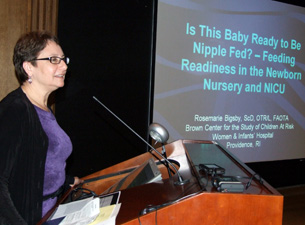 Keynote speaker Rosemarie Bigsby at the Lois Diehm Memorial Neonatal Research Conference.
More than 100 nurses from hospitals across the state attended the fourth annual Lois Diehm Neonatal Research Conference held at the Health Center March 31.
The keynote speaker was Rosemarie Bigsby from the Brown Center for the Study of Children at Risk, Women & Infants Hospital in Providence. Bigsy's talk, "Is this Baby Ready to be Nipple Fed? Feeding Readiness in the Newborn Nursery and NICU," focused on how to assess whether the baby is ready for breast feeding and some of the typical interventions you can use to promote it.
The conference also included several speakers from the Health Center:
Registered nurse Terese Donovan talked about incorporating hospice principles into end of life care in the neonatal setting; Professor of Medicine Nancy Petry discussed how to treat substance abusing women who are pregnant; Dr. Jennifer Trzaski's lecture focused on "Bridging the Gap: Development of Cleft Palate and Clinical Implications for Management and Therapeutic Strategies"; and the NICU nurses who took part in a cultural exchange in Hyderabad, India last year talked about their experiences teaching neonatal clinicians.
Nurse manager Gwyn Muscillo, one of the conference organizers, says she was extremely pleased with the turnout. "The attendance has increased steadily over the past four years and this year we have more nurses than ever before from other hospitals."