Feature Story
Health Center Today, April 15, 2010
Olympian Visits UConn Health Center
By Chris Kaminski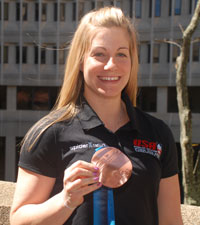 Erin Pac displays her bronze medal.
Photos by Janine Gelineau
Olympic bronze medalist Erin Pac recently visited the UConn Health Center. Pac and her teammate, Elana Meyers, won a bronze medal at the 2010 Vancouver Winter Olympics in the two-person womenís bobsled event. Womenís Olympic bobsled only goes back to 2002, but in eight years, U.S. women have never missed the podium.
Pac is a native of Farmington and the stepdaughter of Health Center employee Carol Pac. "Weíre extremely proud of Erin. She has been preparing for the Olympics for the last eight years. Itís wonderful that all her hard work has paid off," says Carol Pac. Bobsledding involves lifting, pushing a heavy sled for 50 meters and attaining explosive speed in short bursts.
While at the Health Center, Pac visited with the staff of Facilities Development and Operations and spoke about her experiences at the Olympics. She also brought her bronze medal along for individuals to see up close. "Everyone was amazed at how heavy the medal is," says Carol Pac.
Pacís next stop, along with other U.S. Olympians, will be to visit with President Obama at the White House.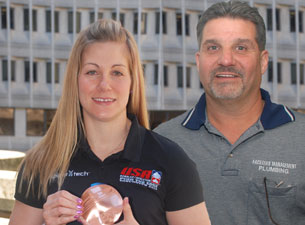 Erin Pac with Health Center employee David Toce.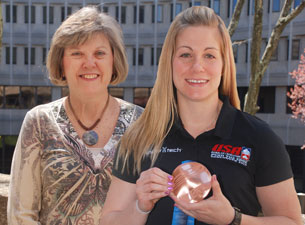 Carol Pac with her stepdaughter Erin.