RSS
Watch the Video
Feature Story
Health Center Today, April 23, 2010
Quadruplets Born at Health Center – First Time in 12 Years
By Chris DeFrancesco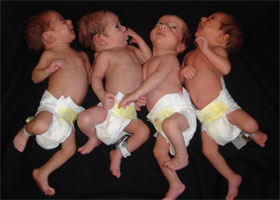 From left: Adam, Sarah, Selma and Ali Abushaqra are the first quadruplets delivered at the UConn Health Center since 1998. They were born to Nada Jad and husband Haidar Abushaqra, of Ellington, on March 23, all in good health. They are 3 ˝ weeks old in the photo.
For the first time in 12 years, quadruplets were born at the University of Connecticut Health Center.
Nada Jad delivered two healthy boys and two healthy girls March 23: Adam, Sarah, Selma, and Ali were born within a minute of each other and weighed between 3 pounds, 5 ounces and 3 pounds, 8 ounces at birth. The quads spent several weeks in the UConn Health Center's Neonatal Intensive Care Unit. Jad and husband Haidar Abushaqra live in Ellington, with two other young children. The quadruplets were naturally occurring and spontaneous, meaning without the use of fertility drugs or in vitro fertilization.
The UConn Health Center was the birthplace of Connecticut's first surviving quadruplets in 1984.