Feature Story
Health Center Today, April 30 2010
Dr. David Rowe Awarded the Board of Directorís Faculty Recognition Award
By Carolyn Pennington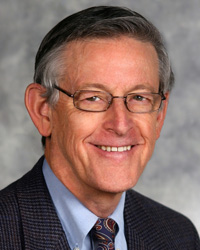 Dr. David Rowe
The Health Centerís Board of Directors has named Dr. David Rowe the 2010 winner of its Faculty Recognition Award.
Rowe, professor of genetics and developmental biology and director of the Center for Regenerative Medicine and Skeletal Development in the School of Dental Medicine, is being recognized for his outstanding contributions to research, teaching, and mentoring.
"What I appreciate the most about Dr. Rowe is his passion, not only for research, but for so many other things that are important to our School and the Health Center," says Dr. Monty MacNeil, dean of the UConn School of Dental Medicine. "He has that rare ability to see science one or two dimensions ahead of most of us, and that is a unique gift. Weíve all benefitted from his foresight and vision, and perhaps more importantly, from his drive to reach that next level. He is in a class by himself."
Rowe joined the Health Center faculty 33 years ago shortly after the opening of the John Dempsy Hospital to head the newly created division of Pediatric Endocrinology and Diabetes. His main research interest is the genetic disease Osteogenesis Imperfecta, commonly known as Brittle Bone Disease. He is also one of the lead researchers in UConnís Stem Cell Institute and oversees several projects that have been awarded $3.5 million in grants from the Connecticut Stem Cell Research Advisory Committee.
The work being done in the Center for Regenerative Medicine and Skeletal Development involves a multidisciplinary team of researchers. The focus of their effort is to understand and implement strategies for regenerating bone, cartilage, dental and muscle structures using adult and embryonic stem cells. The Department of Defense is extremely interested in the centerís work and has been a generous funding source, awarding more than $3 million in grants.
"David has had a longstanding, highly productive and acclaimed research career, which has brought national and international recognition to him, and the Health Center," says Dr. Bruce Koeppen, dean for academic affairs at the UConn School of Medicine. "He has also worked to help build and support our research infrastructure. This in turn helps countless other UConn researchers."
During his academic career at the Health Center, Rowe has lectured in the basic science curriculum shared by medical and dental students, and has also taught mammalian genetics at the graduate level. To date, he has been the primary mentor for 10 doctoral graduate students and 23 postdoctoral fellows.
Dr. Rowe received a National Research Career Development Award while in the Department of Pediatrics, he was the president of the National Osteogenesis Imperfecta Foundation from 2003 to 2006, was elected to the Connecticut Academy of Science and Engineering in 2007, and is a longstanding member of the American Society of Bone and Mineral Research.