RSS
Watch the Video
Feature Story
Health Center Today, April 14, 2010
Clarifying Campus Tobacco Policy
By Chris DeFrancesco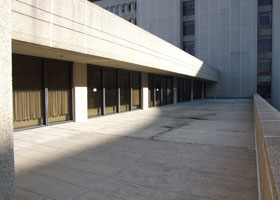 The second-floor balcony outside the Calhoun Cardiology Center, historically used by smokers, no longer is a designated smoking area per the Health Centerís no smoking/tobacco policy.
For the months that remain before the campus goes smoke free, the Health Center is taking steps to clarify its no smoking/tobacco policy.
"Very simply, smoking is prohibited within 50 feet of any building entrance," says Tom Trutter, associate vice president of facilities development and operations.
The recently updated policy also specifies the designated smoking areas on campus. They no longer include the second-flood balcony of Building C, near the Calhoun Cardiology Center, a historically popular area for smokers.
"We are further clarifying that by adding signage at the entrances, at the designated smoking areas, to make sure that everyone has a clear understanding of what those areas are," Trutter says.
The 50-foot rule and the designated smoking areas will give way to full prohibition Nov. 18, the day the American Cancer Society observes the 2010 Great American Smokeout.
In the meantime, UConn Health Center Assistant Police Chief Ray Bouchard is hopeful for voluntary compliance. Violators can face fines of up to $75 per incident.

"Certainly thatís something that weíre looking at being a last resort," Bouchard says. "It needs to be an effort of the entire Health Center community to enforce the existing nonsmoking policy, and everyone needs to remember that they need to be 50 feet from a building entrance, or in a designated smoking area, in order to be compliant with the policy."
As part of the effort to achieve a smoke-free campus, the Human Resources Department, through its workplace culture program Know Better Place, is maintaining a smoking cessation online resource: "Clean Air, a Healthier You."