Feature Story
Health Center Today, August 24, 2010
NASA Astronaut Featured Speaker for 2010 Convocation Ceremony
By Carolyn Pennington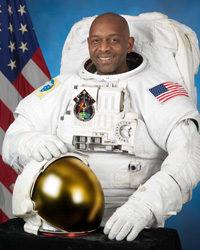 Dr. Robert Satcher, Jr.
Photo courtesy of NASA
The first African American surgeon in space, Dr. Robert Satcher, Jr., was the featured speaker for Convocation 2010, in honor of the entering medical and dental classes of 2014.
The Joseph M. Healey Convocation ceremony marks the beginning of the new academic year, and is named in honor of a former faculty member of the School of Medicine, who died in 1993.
Satcher presented an inspirational and informative talk about his experiences as a clinician scientist and now a space shuttle astronaut. Satcher was selected as an astronaut candidate by NASA in May 2004. Two years later he completed his training which included scientific and technical briefings, intensive instruction in Shuttle and International Space Station systems and water and wilderness survival training.
Satcher embarked on his first shuttle flight to the International Space Station last November and logged over 259 hours in space. During the mission, Satcher performed two spacewalks for more than 12 hours of extravehicular activity (EVA).
Satcher's remarks were extremely appropriate since the dual theme of convocation is the importance of viewing medicine as a vocation of service to others, and the need for doctors to maintain their interests outside of science and medicine to assure a sense of balance and perspective in their personal and professional lives.
This year's master of ceremonies was second-year dental student Mark Angeloni. Dr. Cato Laurencin, dean of the medical school and vice president for health affairs, gave the welcoming remarks and Dr. Dan Henry, professor of medicine, gave the faculty address. Student speakers were second-year medical student Christine Shapter and second-year dental student Alaina Kessler.
Convocation has been held at the beginning of each academic year since 1985.