Feature Story
Health Center Today, August 10, 2010
Laurencin Named BMES Fellow
By Chris DeFrancesco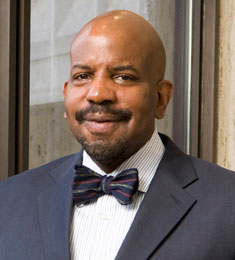 Dr. Cato T. Laurencin has been elected to the Biomedical Engineering Society's 2010 class of fellows.
Photo by Janine Gelineau
Dr. Cato T. Laurencin, vice president for health affairs and medical school dean, has been elected a fellow of the Biomedical Engineering Society.
The BMES bestows this honor in recognition of outstanding contributions and achievements in biomedical engineering.
Laurencin who also is the Van Dusen Endowed Chair Professor in Academic Medicine and is Distinguished Professor of Orthopaedic Surgery and Chemical, Biomolecular and Materials Engineering at the University of Connecticut, is one of 15 biomedical engineers to be inducted in a formal ceremony at the BMES Annual Meeting Oct. 7 in Austin, Texas.
"They represent some of the most imaginative and distinguished biomedical engineers in the field," says BMES Fellows Committee Chair Nicholas A. Peppas. "Their contributions have had a major impact in biomedical devices and processes, treatment of diseases, and all aspects of biomedical engineering that contribute to improvement of the quality of life of patients."
The newly elected fellows were nominated by their peers.
"It is truly an honor to be so recognized and to be included in such a prestigious group that includes some of our nation's most outstanding scientists," Laurencin says.
More information about the Biomedical Engineering Society is available at www.bmes.org.