Feature Story
Health Center Today, August 19, 2010
School of Medicine Sends Volunteers to CARES Clinic in Washington, D.C.
By Carolyn Pennington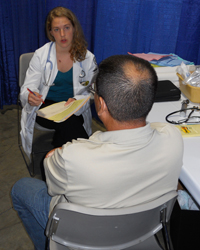 Second-year resident Marilyn Katz sees a patient at the free CARES clinic in Washington, D.C.
Representatives from the UConn School of Medicine recently volunteered their time at a free clinic to help the underserved in Washington, D.C.
Fourth-year medical student Jessica Johnson and second-year resident Marilyn Katz volunteered at the CARES clinic organized by the National Association of Free Clinics (NAFC) on August 4.
Both Johnson and Katz were given their own exam rooms and Dr. Bruce Gould, professor and associate dean for primary care at the School of Medicine, precepted their activities. "They were a fantastic help and it was a great experience for them," says Gould.
Overall, the CARES clinic saw 1,400 patients in a single day.
"Nearly all the patients I saw were people who had lost their jobs, and therefore health insurance, in the past one or two years, and had been without formal health care during that time," says Katz. "I saw a mix of problems - patients wanting a routine physical exam with basic blood work, musculoskeletal complaints, and medication refills."
The vast majority who come to the free clinics have jobs but are uninsured, according to federal figures. In 2008, more than 80 percent of the uninsured were in working families – and about two-thirds were from families with one or more full-time workers, according to the Kaiser Family Foundation.
The free clinic is "a very small blip in trying to deal with the larger problem of 50 million people who have no access to health care," adds Gould.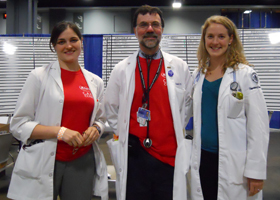 From left: Fourth-year medical student Jessica Johnson, Dr. Bruce Gould and second-year resident Marilyn Katz volunteered at the CARES clinic in Washington, D.C.
Gould helped organize a similar event in Hartford in February. The one-day clinics are intended to give the uninsured a chance to see doctors and get exams or screenings they might have missed while connecting them with the "safety net" health system that includes free clinics, community or federally qualified health centers, and programs at hospitals for those without insurance.
NAFC represents 1,200 clinics throughout the country, including three in Connecticut.
Katz was the director of Hartford's South Park Inn Clinic when she was a medical student so this was not her first experience working with an underserved population. "D.C. Cares, much like the South Park Inn Clinic, is a difficult task because you are only seeing a patient for a fraction of their health care," explains Katz. "Hopefully, most of the patients we saw will use this as a launching point to get plugged into a community clinic to continue their care."