Feature Story
Health Center Today, August 9, 2010
Meeting the Specialized Needs of the Hospitalized Elderly
By Susan Wisby-Smith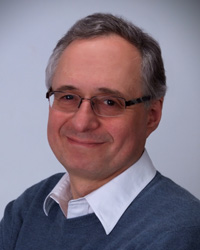 Dr. George Kuchel, director of the UConn Center on Aging, together with colleagues in Geriatrics, Hospitalist Medicine and several different surgical specialties, is leading the charge to ensure that all elderly patients treated at John Dempsey Hospital receive the specialized care they require. "Older adults have particular needs and face unique risks when they are hospitalized — especially if they are frail," says Kuchel. "Our goal is to be prepared to handle those challenges from the moment they come in the door."
The Health Center has received several grants through the American Geriatrics Society to support training of physicians in different specialties in how to provide optimum care for hospitalized elderly patients. "Through these grants, we've been able to infuse knowledge of geriatric care with multiple specialists — urology, gynecology, otolaryngology, etc. — so these physicians can better understand and address the unique needs of elderly patients under their care," adds Kuchel, who also holds the Citicorp Chair in Geriatrics and Gerontology.
Physicians who are preparing an elderly patient for elective surgery can request a geriatrics consultation through the UConn Center on Aging. "During that evaluation, we look at the medications the patient is currently taking, at general health, nutrition, cognition and also address potential post-operative mobility issues," says Kuchel. When necessary, patients meet with a physiotherapist and are encouraged to have physical therapy or participate in an exercise program prior to surgery so they are stronger and more able to fully participate in their post-operative rehabilitation.
Dr. Maggie Rathier, a UConn geriatrics specialist, consults with older patients who are admitted to the hospital and co-chairs the falls prevention committee. "I'm often called in to evaluate an elderly patient who isn't functioning well or is confused," says Rathier. "I perform a thorough examination of the patient's health status to look for what may be causing that confusion, which can be a reaction to a medication. By altering the medication or the dosage, we often can help with their confusion."
When patients are admitted to the hospital, they are also assessed by a nurse to determine if they are at risk for a fall. If they are, the fall-prevention protocol is put in place so that everyone treating that patient is aware of the risk and takes appropriate precautions to prevent a fall. The nursing staff does "hourly rounding," seeing each patient once an hour to make sure their needs are met. Physical therapists evaluate patients who have difficulty walking and prescribe exercises to help improve muscle strength and balance.
"In addition to signage outside and inside the patient rooms that indicate the fall risk, we have made some physical changes in the patient rooms to help prevent falls," says Rathier. "The hospital staff makes sure the rooms are well lit, ensures that the path from the bed to the bathroom is free of obstacles, and have installed visual cues on shower lips. Patient and families are educated about the risk for falls after discharge from the hospital. The entire patient care team works to make sure the unique needs of older patients are met from admission to discharge."