Feature Story
Health Center Today, August 18, 2010
Health Center Breaks Record in New Grant Awards
By Carolyn Pennington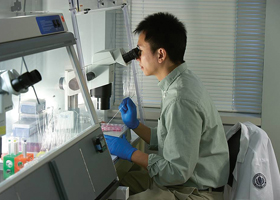 Dr. Ge Lin working in the Stem Cell Core Laboratory.
With the close of the last fiscal year, the Health Center crossed a significant threshold in its history. For the first time, it received more than $100 million in extramural research funding, from sources including the federal government, private and state sources. The grand total in research support was $101,908,000.
The largest source of funding came from the National Institutes of Health (NIH) which was invigorated during this time by stimulus funding from the Obama administration. In particular, the Health Center received a $7.9 million federal grant to renovate, modernize, and improve the Center for Comparative Medicine. The 15,480-square-foot renovation in one of the original research buildings will help support the projects of 136 scientists.
Leslie Loew, director of the Richard D. Berlin Center for Cell Analysis and Modeling (CCAM), received more than $1 million in federal funding this year. CCAM is developing new approaches to determine how cells work, interact, and respond, and how to organize this data so it can be applied to human health.
The state of Connecticut awarded a $577,810 grant to the Stem Cell Core Laboratory run by Dr. Ren-He Xu. The money will allow the core to continue its work, which includes training scientists and creating lines of human embryonic stem cells, the raw material for the research.
A philanthropic highlight of the year was the inaugural White Coat Gala, which was attended by nearly 500 people and raised more than $350,000 for clinician-scientists across the Health Center. Title sponsorship for the gala was generously provided by Aetna and Carole and Ray Neag. Plans are already underway for the 2011 White Coat Gala.
"Crossing the $100 million threshold, together with the addition of the new Cell and Genome Sciences Building and the successful recruitment of new researchers, illustrates the strength and momentum recently gained by our research enterprise," says Dr. Cato T. Laurencin, medical school dean and vice president for health affairs. "It is something we can all take great pride in."