Feature Story
Health Center Today, August 30, 2010
Urban Health Scholars Attend Leadership Conference on Public Health and Preventive Medicine in Washington, D.C.
By Brittany Sonnichsen, Third-year Dental Student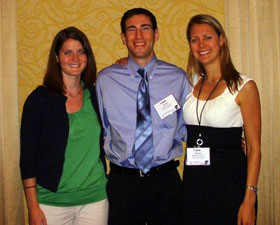 Kerrie O'Brien, Daniel Morris, and Brittany Sonnichsen of the Schools of Medicine/Dental Medicine attend a student leadership symposium on public health and preventive medicine in Washington, D.C.
Daniel Morris, Kerrie O'Brien and I were selected to attend the 9th Annual Paul Ambrose Scholars Program (PASP), held this summer in Washington, D.C. Applicants ranged from over 80 health professions schools across the country. At the conference, we joined 44 other medical, physician assistant, dental, pharmacy and graduate nursing students who are dedicated to bringing health promotion and preventive approaches to health professions education and their communities.
Dan, UConn School of Medicine class of 2011, reflected on his experience: "It was a really great opportunity for me to interact with other students from a number of health care disciplines with similar interests and passions for providing care and preventive medicine to underserved populations. I learned so much from the conference participants and speakers."
Penelope Slade-Sawyer, Deputy Assistant Director for Health in the Office of Disease Prevention and Health Promotion, provided an inspiring kickoff address at the opening of the program that set the stage for three days of learning and networking opportunities. Throughout the leadership development program, we had the opportunity to attend presentations and discussions focused on prevention, healthcare and the economy, health policy advocacy, project planning and community organizing, medicine and the underserved, public speaking and media relations, cultural competence, and health literacy. These sessions were led by public health officials, industry experts, and public health veterans, along with a panel of three enthusiastic Paul Ambrose Scholar alums from the eighth annual PASP meeting.
The PASP program is named for Paul Ambrose, M.D., M.P.H., a rising star in the field of prevention and public health who tragically lost his life on September 11, 2001. Through his intelligence, commitment, and heart-felt energy, Paul forged meaningful relationships and touched many lives by demonstrating a zest for living and passion for prevention and public health. Paul's mother, Sharon Ambrose, attended this year's symposium.
The Urban Service Track program at UConn, which Dan, Kerrie and I are part of, has been instrumental in providing us with service opportunities. The PASP encompassed all of the same principles as the UST program on a national level. "PASP was an amazing opportunity to learn about public health and interact with students from all over the country who are pursuing similar projects to what we do with UST for our community," reflected Kerrie, a third-year dental student.
As part of PASP, we will receive a micro-grant to implement a health promotion or disease prevention education project in our communities within the next year.
The Paul Ambrose Scholars Program (PASP) is implemented by the Association for Prevention Teaching and Research (APTR). PASP is sponsored by the Office of Disease Prevention and Health Promotion (ODPHP) of the U.S. Department of Health and Human Services (HHS).