Feature Story
Health Center Today, August 23, 2010
First-Year Dental and Medical School Students Celebrate White Coat Ceremony
By Carolyn Pennington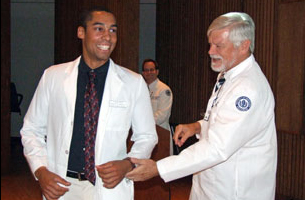 Dr. Arthur Hand presents first-year dental student Tyler Aten with his white coat.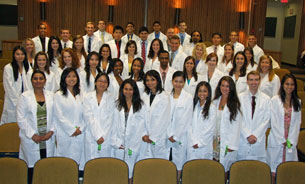 UConn School of Dental Medicine Class of 2014.
The traditional White Coat Ceremony was held Friday for both the dental and medical schools' first -year students.
This year 43 dental and 89 medical students participated in the annual ceremony, a symbolic induction into the professions of medicine and dental medicine.
The dental school ceremony was held in Keller Auditorium and included speakers Dr. William MacDonnell from the American College of Dentists and Dr. Carolyn Malon, vice president of the Connecticut State Dental Association.
Dean of the School of Dental Medicine, Dr. R. Lamont (Monty) MacNeil, welcomed the class of 2014 and urged them to work hard, work together and remember the duties and responsibilities to their patients.
"The white coat is symbolic, it has more to do with what is inside the white coat." Dr. MacNeil concluded by saying, "In more ways than one, I hope the coat fits."
The formal presentation of coats was performed by Dr. Steven Lepowsky, associate dean for education and patient care, Dr. Arthur Hand, assistant dean for medical and graduate students, and Dr. Michael Goupil, associate dean for students.
After the students had donned their white coats, the program concluded with the recital of The Dentist's Pledge.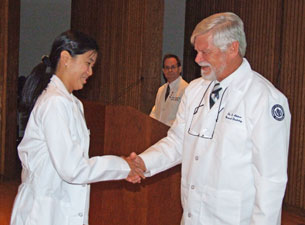 First-year dental student Myungso Chung is congratulated by Dr. Arthur Hand during the annual White Coat Ceremony.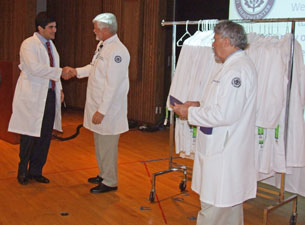 Sean Ghassem-Zadeh, first-year dental student, receives his white coat from Dr. Arthur Hand and Dr. Michael Goupil.
Dr. Arthur Hand helps first-year dental student Jenna Marcinczyk put on her white coat.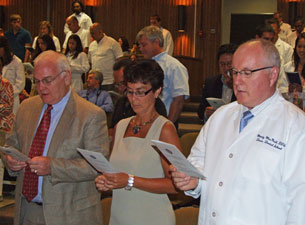 From left: Dr. William MacDonnell, Dr. Carolyn Malon, and Dr. Monty MacNeil recite The Dentist's Pledge during the annual White Coat Ceremony.