Feature Story
Health Center Today, December 9, 2010
Auxiliary's Holiday Bazaar – A Fundraising Success
By Carolyn Pennington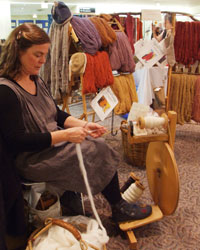 Health Center Auxiliary's Holiday Bazaar 2010.
Photos by Tina Encarnacion
The Auxiliary held its annual one-day shopping extravaganza on December 3. The Holiday Bazaar filled the Health Center's main lobby, Keller lobby and mezzanine area with more than two dozen vendors.
"We would like to thank everyone who supported our annual Holiday Bazaar," says the Auxiliary's Phyllis Hills. "Most of all we would like to thank the departments for the generous baskets they donated to the Auxiliary for our basket raffle. We had 21 baskets which was unbelievable."
The most popular baskets by tickets purchased were the two wine baskets donated by Reconstructive Sciences.
The event is one of the Auxiliary's major fundraisers, bringing in nearly$4,500 this year.
More information about the UConn Health Center Auxiliary is available at http://auxiliary.uchc.edu.