Feature Story
Health Center Today, December 7, 2010
UConn Cardiologist 1st in New England with New Treatment
Innovative Device Makes Peripheral Arterial Disease Procedures Less Invasive
By Chris DeFrancesco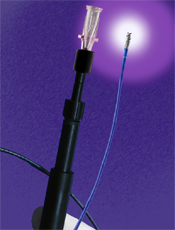 Wildcat catheter.
Photos by Janine Gelineau
Dr. Kanwar Singh, interventional cardiologist in the Pat and Jim Calhoun Cardiology Center, is the first physician in the region to take an innovative, minimally invasive approach to treating peripheral arterial disease.
Using a new device called the Wildcat catheter, Singh was able to re-open a completely blocked artery in a patient's leg through a 2-millimeter skin incision.
Some blockages are severe and difficult to pass through with traditional catheters, forcing patients to undergo more invasive bypass surgery and subjecting them to higher risks and prolonged recovery. In those cases where the plaque deposits cannot be passed, patients face an increased possibility of losing a limb to amputation. This minimally invasive alternative to bypass surgery enables patients to leave the hospital within hours and return to normal activities within a few days.
"We are fortunate to have access to cutting-edge technology like this that helps us treat high-risk patients here at the Calhoun Cardiology Center," says Singh, who also co-directs the Health Center's interventional cardiology program. "So many of our patients want and need safer alternatives to surgery."
The Wildcat catheter was developed by Avinger, Inc., which was founded by Dr. John Simpson, interventional cardiologist, world-renowned inventor and pioneer in the treatment of cardiovascular disease. The Food and Drug Administration approved its use last year.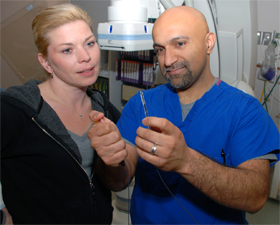 Dr. Kanwar Singh shows cardiology nurse Cathy Ingriselli the Wildcat catheter.
"The Avinger group specifically approached us," Singh says. "They know we are doing truly advanced work here in vascular disease, and wanted to partner with us early in the rollout of this new device. Amazingly, as advanced as the Wildcat catheter already is, the future generations of this tool will incorporate a forward-looking imaging component that may be the next quantum leap in vascular disease, so it's really exciting to be a part of this program."
Peripheral arterial disease, or PAD, is an extremely common circulatory problem in which plaque builds inside the arteries and obstructs blood flow to the lower limbs and feet. It affects 10 to 25 percent of Americans age 55 and older, or approximately 8 million adults, and the percentage goes up with age. PAD is the leading cause of amputation in patients over 50, and is responsible for almost 200,000 amputations every year in the United States alone. In addition, people suffering from PAD have a four-to-five-times higher risk of related vascular disease like heart attack or stroke.