Feature Story
Health Center Today, December 13, 2010
Internationally Renowned Researchers Present Findings at Cell and Genome Sciences Inaugural Symposium
By Carolyn Pennington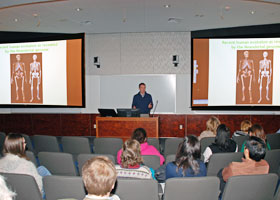 Guest speaker Ed Green lectures during the Cell and Genome Sciences Inaugural Symposium.
Photos by Janine Gelineau
The Health Center held its first symposium in the newly renovated Cell and Genome Sciences Building at 400 Farmington Avenue on December 9. The symposium included lectures from Health Center scientists as well as researchers from across the country. A dedication ceremony for the 100-seat Edmund and Arlene Grossman Auditorium was also held during the event.
Ed Green of the Baskin School of Engineering at University of California Santa Cruz was one of the invited speakers and is well known for creating a draft sequence of the Neanderthal genome.
During his lecture, Green described how he extracted DNA from three Neanderthal bones found in a cave in Croatia estimated to be around 40,000 years old. Deriving a genome sequence--representing the genetic code on all of an organism's chromosomes--from such ancient DNA was a remarkable technological feat. Green and his fellow researchers had to develop special methods to extract the Neanderthal DNA and ensure that it was not contaminated with human DNA. They then used new sequencing technology to obtain sequence data directly from the extracted DNA.
This draft sequence yielded important new insights into the evolution of modern humans. "The scenario is not what most people had envisioned," Green said. "We found evidence that shortly after early modern humans migrated out of Africa, some of them interbred with Neanderthals, leaving bits of Neanderthal DNA sequences scattered through the genomes of present-day non-Africans."
Neanderthals lived in much of Europe and western Asia before dying out 30,000 years ago. They coexisted with humans in Europe for thousands of years. But the Neanderthal DNA signal shows up not only in the genomes of Europeans, but also in people from East Asia and Papua New Guinea, where Neanderthals never lived.
"We can now say that, in all probability, there was gene flow from Neanderthals to modern humans," says Green."The Neanderthal genome is a goldmine of information about recent human evolution, and it will be put to use for years to come."
The symposium's other guest speakers were John Condeelis of the Albert Einstein College of Medicine, who spoke about "tumor metastasis as a cell motility disease," and Amy Wagers from Harvard University, who talked about the "skeletal muscle stem cell in aging and disease."
Lecturers from the Health Center included:
Brenton Graveley, Department of Genetics and Developmental Biology
"Functional Studies of the Fruit Fly Genome"
Laurinda Jaffe, Department of Cell Biology
"Regulation of the Prophase-to-metaphase Transition in Follicle-enclosed Mouse Oocytes: Two Paths to Meiotic Resumption"
Charles Wolgemuth, Department of Cell Biology
"Modeling Physics in Cell Biology: Swimming, Crawling, and Healing Wounds"
Srdjan Antic, Department of Neuroscience
"Synaptic Integration – Glutamate Evoked Events in Thin Dendrites of Cortical Pyramidal Neurons"
Stephen King, Department of Molecular, Microbial and Structural Biology
"Molecular Motor Mechanics: Regulating Dyneins in the Ciliary Axoneme"
Ji Yu, Department of Genetics and Developmental Biology
"Single Molecule Imaging of Cytoskeletal Dynamics"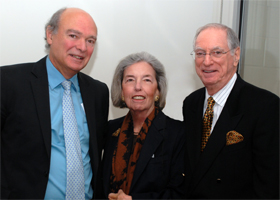 Dr. Marc Lalande, left, together with Edmund and Arlene Grossman at the December 9 scientific symposium at the Cell and Genome Sciences Building.
During the symposium, a naming ceremony was held for the building's 100 seat auditorium. Alumnus Edmund Grossman and his wife, Arlene Petroff Grossman, of New York City, have committed an irrevocable estate gift of $700,000, the first major private gift the Health Center has received for stem cell research.
"Ed and Arlene Grossman share our vision and believe in the UConn Health Center's promise to be a world leader in stem cell research. Their support will help us attract preeminent faculty and translate discoveries made in the lab into new therapies and cures," says Marc Lalande, director of the Stem Cell Institute and senior associate dean for research planning and coordination at the Health Center.