Feature Story
Health Center Today, December 2, 2010
CICATS Holds First Translational Symposium
By Chris DeFrancesco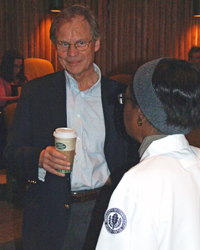 Dr. Bjorn Olsen visits with Dr. Marja Hurley before delivering the keynote address at the CICATS Inaugural Translational Symposium December 1.
Photos by Chris DeFrancesco
The Connecticut Institute for Clinical and Translational Research, a regional biomedical research consortium launched by UConn last year, held its first symposium on translational research.
Dr. Bjorn Olsen, Hershey Professor of Cell Biology and dean for research at Harvard Medical School and professor of developmental biology at the Harvard School of Dental Medicine, was the keynote speaker. His presentation, "Translational Research—Good Things Happen When Science Meets Clinical Reality," is available through the Health Center's Mediasite page.
UConn faculty presentations preceded Olsen's: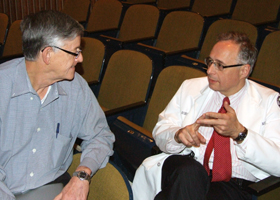 Dr. David Rowe (left) and Dr. George Kuchel chat in Keller Auditorium prior to their presentations.
"The future involves the entire region working together in service to humanity," says Dr. Cato T. Laurencin, vice president for health affairs and medical school dean. "CICATS was created to coordinate and integrate efforts in the broad community of health care institutions and practitioners in the Hartford metropolitan area, and to link these efforts to a national CTSA consortium."
CTSA is the Clinical and Translational Science Award from the National Institutes of Health, for which UConn reapplied in October.
CICATS is holding a series of workshops and open houses, with the next one scheduled for December 16 in Dowling South.