Feature Story
Health Center Today, December 8, 2010
Know Better Place Health and Wellness Series - Ask Me If You Dare
By Chris Kaminski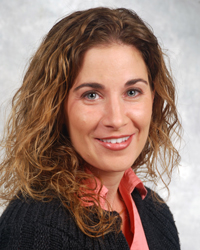 Dr. Rebecca Andrews
Have you ever had a medical question that you were too embarrassed to ask a friend, family member, or even your doctor? In most cases, the answer is yes. The Know Better Place Health and Wellness Series provided an opportunity for individuals to ask one question that they never dared to ask.
At the recent, "Doctor Is In" session, participants were able to ask guest speaker and primary care physician Rebecca Andrews, any question they had on their minds either in person or via email. "In my practice I find that many times a patient will call me after their appointment because they forgot to ask me something or they were afraid to ask in person," says Dr. Andrews. "The type of open forum like the "Doctor Is In" allows people to ask me any type of question without feeling intimated," added Andrews.
Andrews addressed questions that ranged from the effect of hypnosis on stress, when to seek medical care for a bone injury, to recommendations on how much daily calcium and vitamin D a woman should take to prevent osteoporosis. "Dr. Andrews was very knowledgeable and provided great tips on how to realistically incorporate them into your own lifestyle," says Sheryl Rosen who attended the session.
The Know Better Place Health and Wellness Series is designed to help employees create balance in their life by obtaining knowledge and understanding of their physical, emotional, mental, and spiritual needs. For more information about the Health and Wellness Series, visit the Know Better Place website.