Feature Story
Health Center Today, December 17, 2010
Lose Weight and Win Prizes – Participants Needed for Research Study
By Chika Anekwe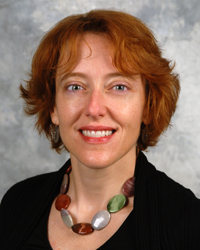 Danielle Barry
Lose weight and win prizes. For anyone heavier than his or her ideal body weight and looking to lose a few pounds, this sounds like the perfect situation. For Danielle Barry, a clinical psychologist and assistant professor in the Calhoun Cardiology Center, it's the basis of an ongoing research study.
Barry is conducting a study aimed at determining whether providing incentives to people will result in increased weight loss compared to people similarly motivated to lose weight but who are not offered an incentive.
The scientific term for this technique is "contingency management" and it is a technique that has been used in the past for improving outcomes in patients with substance abuse disorders. The goal with this study is to apply the concept to weight loss.
Participants enrolled in the study receive a manual that provides guidance for achieving their weight loss goal. They meet weekly with a counselor for three months to review progress, discuss their challenges or successes for the week, and get weighed. For the second phase of the study, the meetings are scheduled every other week for three months, with a similar goal of the counseling sessions.
For those participants enrolled in the group receiving incentives, the counseling sessions also provide an opportunity for winning prizes. Losing weight and/or showing proof of participation in a weight-loss promoting activity such as keeping a food diary or going to the gym, allows these participants the opportunity to draw a prize from a large fish bowl. Consecutive weeks of success will increase the number of available draws from the bowl.
The fish bowl contains folded neon green pieces of paper, each paper revealing either a motivational phrase such as "good job" or a prize valued at "small", "large" or "jumbo." Drawing a "small" prize allows the participant to pick from a large drawer of prizes including things such as packets of chewing gum, batteries, or post-it notes. A "large" prize would be an item such as a food scale, blender, fitness DVDs, or gift cards to various stores. A "jumbo" prize, though few and far between, could be a digital camera, iPod, or several gift cards to local merchants like Target or TJMaxx. Study participants are asked to suggest prizes and gift cards they would like to win.
One of the most surprising things Barry noticed is the fact that participants are not as interested in the prizes as might be expected upon initially signing up for the study. "Most people signed up because they want to lose weight," Barry says.
She does suspect the prizes provide further incentive for at least attending the weekly or biweekly counseling sessions, although it is too soon to say whether they truly influence the amount of weight lost by a participant.
22-year-old Laura DeMaio is a graduate student at UConn who joined the study in September 2010. She was assigned to be in the group with prize incentives. Coming from a statistical background, she jokes about how she initially tried to calculate the odds of winning prizes from the fish bowl. She has already won over $400 worth of prizes, but states that regardless of which group she were in, participating in the study would likely help her lose weight because of the sense of accountability.
To be eligible for the study, participants must be university students between the ages of 17 and 29, have a BMI between 27 and 39.9, be nonsmokers, and have a normal range blood pressure. For further eligibility requirements or to find out more about the research study, students may contact Barry at 860-679-6664.