RSS
Watch the Video
Feature Story
Health Center Today, February 25, 2010
Calhoun Ride Set for June 12
By Chris DeFrancesco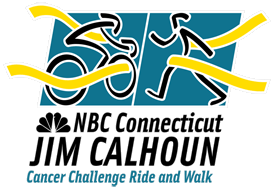 UConn menís basketball coach Jim Calhoun is bringing his annual bike ride to fight cancer back for a fourth year.
The NBC Connecticut Jim Calhoun Cancer Challenge Ride and Walk will take place Saturday, June 12, featuring bicycle rides of 10, 25, 50, and 75 miles and, new this year, a 5K walk. The start and finish line is the Performing Arts Center at Simsbury Meadows on Iron Horse Boulevard in Simsbury. Proceeds will benefit the Carole and Ray Neag Comprehensive Cancer Center and Coaches vs. Cancer.
Coach Calhoun, a cancer survivor, encourages you to register to ride, walk, donate or volunteer. Riders and walkers can sign up individually, join a team, or start their own team. Visit http://calhounride.uchc.edu for more information.