Feature Story
Health Center Today, February 4, 2010
Health Center Providers Join the C.A.R.E. Cause
By Chris DeFrancesco
Dr. Bruce Gould and fourth-year medical student Robin Deutsch see a patient at the one-day C.A.R.E. Clinic in Hartford.
Photo by Michael Fiedler
A gigantic one-day health care undertaking by nearly 1,200 doctors, nurses, pharmacists, and other volunteers – medical and nonmedical – served the underserved at a free clinic at the Connecticut Convention Center.
The volunteer force, including health care providers and medical students from the Health Center, saw 1,000 uninsured patients from noon to 8 p.m. on February 3.
"It really is an amazing feat to pull off, when you think about the number of moving parts that are here to put together this type of massive effort," said Dr. Bruce Gould, associate dean for primary care, who served as the event's medical director. "Wouldn't it be great if the mainstream medical system worked as well?"
The Communities Are Responding Everyday (C.A.R.E.) Clinic was sponsored by the National Association of Free Clinics, a nonprofit group based in Washington, D.C.
"As I triaged patients and looked around at the many others that waited I was on the one hand enthusiastic about the opportunity to help and on the other hand reminded about how heartbreaking it was that this many people lacked basic medical care," said Luriza Glynn, a nurse in the Health Center's Diabetes Education Program.
Dr. Cato T. Laurencin, vice president for health affairs, medical school dean, and orthopedic surgeon, was one of the volunteer physicians. One of his patients was a University of Hartford freshman who's been without health insurance for nearly a year since her mother lost her job.
"It is extremely helpful," she said. "If it weren't for the organization that's doing this, I probably would not be seen. I'd probably be sick or something and not even know it."
She said she scrambled to get as much care as she could once she learned she would soon be uninsured.
"As physicians, our first goal is to give all patients the best possible care, regardless of their ability to pay," Laurencin said. "I was pleased to offer my services and am grateful for the work of Dr. Bruce Gould and many others who made this free service a reality."
Another patient was a 48-year-old Hartford man who lost his job last year. He's working again but is not eligible for health benefits until May.
"I would like to check myself out to see how I'm doing with my cholesterol, blood sugar, and everything… I didn't know where to go, so this was an opportunity to take advantage of."
Half of the patients seen report not having seen a doctor in one to four years, and 10 percent say they haven't seen a doctor in five to nine years.
"This clinic also acted as an outlet to connect the uninsured with area free clinics and other health care providers who can provide them with care on a day-to-day basis," says Nicole Lamoureux, executive director of the National Association of Free Clinics.
"I had the opportunity to speak to many who came as I took their blood pressure and other vital signs and found that most held more than one job and had not seen a doctor in years," Glynn said. "It was great to see that the organizers made it a point to have options on hand as part of the checkout process that each participant took part in, to meet with representatives from the local federally funded clinics and local services that would be available to them in the future."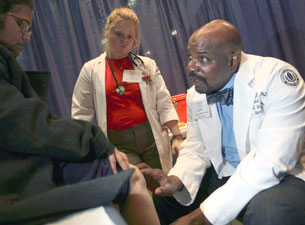 Second-year medical student Lisa DiFedele observes Dr. Cato T. Laurencin with a patient at the C.A.R.E. Clinic.
Photo by Michael Fiedler
Gould, who also serves as medical director of both the Hartford Department of Health and Human Services and the Burgdorf Health Center, a community clinic serving the underserved population in Hartford's north end, said he had to send several of the CARE Clinic patients to the emergency room.
"We shouldn't have to do this," Gould said. "From a societal standpoint, it would be so much less expensive if we could get people care since birth."
Kristie Perry, a medical assistant in the Hollfelder Center for Women's Health, heard Dr. Ursula Steadman talking about the CARE Clinic and saw it as an opportunity to get more involved.
"She couldn't go because of her call schedule, but I was very interested and she gave me the information," said Perry, who on top of her full-time job volunteers in the NICU and goes to nursing school. "My experience was very rewarding, and I am looking forward to doing it again when the opportunity comes my way."