Feature Story
Health Center Today, February 1, 2010
Helping Haiti from Home
By Carolyn Pennington
The student organizers of a Health Center effort to collect monetary contributions for the humanitarian relief effort in Haiti report raising nearly $7,000 in the two weeks following the devastating earthquake.
"This could not be achieved without your generosity," says student Naima Joseph.
The South Park Inn Medical Clinic and IMPAX, a student interest group focusing on international health, raised more than $2,000 dollars with a benefit concert featuring student bands January 21 at Murphy and Scarletti's.
"It is truly uplifting to see how much our Health Center Community has rallied behind this great case," says student Kumar Saachi.
Additionally, an American Red Cross blood drive is scheduled for Monday, February 8, in the Keller Lobby. Those interested in donating blood are encouraged to sign up at www.givelife.org, enter the sponsor code "uconnhc" in the designated box, and schedule an appointment.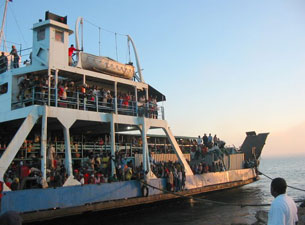 An overloaded boat arrives in Jérémie shortly after dawn, filled with people fleeing Port-au-Prince.
Photo courtesy of the Haitian Health Foundation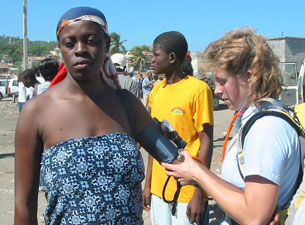 Haitian Health Foundation nurse Devon Root checks the blood pressure of a pregnant woman disembarking a boat from Port-au-Prince.
Photo courtesy of the Haitian Health Foundation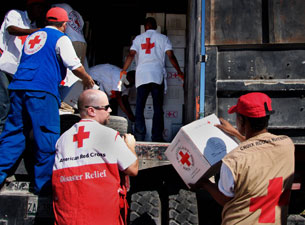 The Haitian Red Cross, American Red Cross and Colombian Red Cross work together to pack supplies that will be distributed in an internally displaced persons camp. (Port-au-Prince, January 20, 2010)
Photo by Talia Frenkel, American Red Cross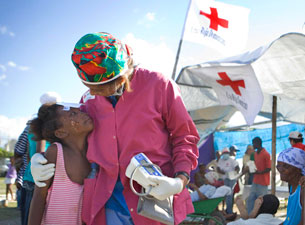 A volunteer comforts an injured child at Cite Soliel.
Photo by Talia Frenkel, American Red Cross