Feature Story
Health Center Today, February 24, 2010
Diverse Health Center Community Marks Its Map
By Chris DeFrancesco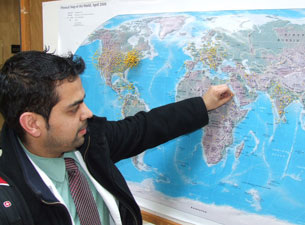 Third-year medical Husnain Kermalli pins his native Jiddah, Saudi Arabia, on the world map provided by the Diversity Allies to demonstrate the various native countries represented in the Health Center community.
In an effort to show the diversity of the Health Center community, Diversity Allies, a committee of staff from various departments, rolled out a world map poster for students, faculty and staff to indicate their country of birth.
"Itís a good way to recognize and celebrate the diversity at the Health Center," says education and staff development specialist Rosie Rodriguez.
Each yellow pin on the map represents an individualís native land. After its first week, it showed more than 650 pins representing 68 countries.
"The map is a wonderful display of how truly global we are as a health care and educational community," says Carolyn Lyle, executive director of the Office of Diversity and Equity. "The map helps each one of us to recognize that our individual contributions come from unique and extremely valuable perspectives which collectively mark us as an institution of excellence in health care education and research."
The Diversity Alliesí world map will be back on display March 2 in the Food Court, March 3 in the academic lobby, and March 9 at the Stowe Library.
Fourth-year dental student David Woods looks for a spot in the U.S.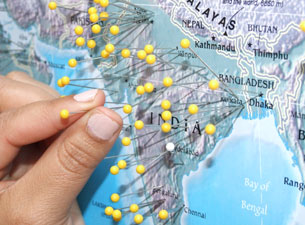 An employee pins India.