Feature Story
Health Center Today, February 10, 2010
First "White Coat Gala" to Support Health Center
Dr. Lawrence Raisz, Bone Disease Expert, To Be Honored
By John Sponauer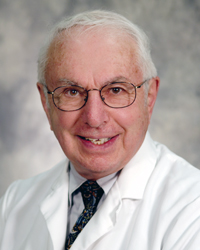 Dr. Lawrence Raisz, bone health expert at the New England Musculoskeletal Institute, will be honored at the UConn Health Center's premiere "White Coat Gala" April 10 at the Hartford Marriott.
The UConn Health Center will hold its premiere "White Coat Gala" in April to support innovative researchers at the state's academic medical center.
The gala, scheduled for Saturday, April 10, from 7 p.m. to midnight at the Hartford Marriott, is the first Health Center-wide fundraising event in more than a decade. Proceeds will provide support for clinician-scientists at the Health Center. The event will also honor Dr. Lawrence G. Raisz, a longtime member of the Health Center community and one of the preeminent experts in the management of osteoporosis and metabolic bone disease in the world.
The Health Center's Office of Development and Alumni Relations is coordinating the gala and has secured numerous sponsorships for the event to date. The Aetna Foundation and longtime university supporters Carole and Ray Neag have committed to become the title sponsors for the event, with The Hartford Financial Services Group, Inc. and Richard and Jane Lublin of Avon also committing as major sponsors.
The "White Coat" name will serve as the Health Center's signature annual event for the future, with a new and different sub-theme each year based on the planned beneficiaries within the Health Center. The 2010 theme, "Celebrating Medicine—the Fabric of Life," will focus on research conducted at the University and the resulting benefits in our society.
"The support of our donors and friends will make all the difference as we move the Health Center toward its full potential," says Dr. Cato T. Laurencin, vice president for health affairs and medical school dean. "The white coat symbolizes our clinical care staff, the coats presented to our medical and dental students, and the tremendous cadre of biomedical researchers here. We look forward to using this annual event to celebrate the investment made by the state, University and public in the UConn Health Center."
For more information about attending the gala, or for sponsorship, please contact Dina Plapler, vice president for development, at 860-679-8077 or dplapler@foundation.uconn.edu.