Feature Story
Health Center Today, January 15, 2010
Health Center Study Reveals New Clues in Cardiac Fibrosis
By Carolyn Pennington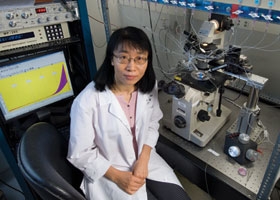 Lixia Yue, assistant professor of cell biology.
Cardiac fibrosis is a major factor contributing to heart disease. Understanding the mechanism of fibrogenesis is crucial for developing new treatments for lessening or reversing fibrosis associated heart disease.
Published in the online issue of the American Heart Association journal Circulation Research, Health Center scientists have demonstrated for the first time the molecular basis of the major calcium-permeable channel in cardiac fibroblasts and helped explain how calcium signals contribute to fibrogenesis in atrial fibrillation patients.
Lead investigator Lixia Yue, assistant professor of cell biology, and her team working in collaboration with Dr. Bruce Liang, the director of the Calhoun Cardiology Center, discovered that the TRPM7 gene encodes the main channel for which calcium enters fibroblasts in the heart. Abnormal calcium levels in fibroblasts can lead to cardiac fibrosis.
"Fibrosis often leads to a variety of cardiac diseases, including irregular heartbeat, enlarged heart, heart failure and sudden cardiac death," Yue says. "If you can control the calcium level, you can stop the fibrosis."
"Since fibroblasts do not have many other calcium channels, blocking TRPM7 may produce relatively specific effects on fibroblasts," explains Yue. "Our results suggest that TRPM7 may serve as a therapeutic target for developing drugs that may help prevent atrial fribrosis associated atrial fibrillation."