Feature Story
Health Center Today, January 13, 2010
Discovering Tremor Disorders and Parkinsonís Disease
By Chris Kaminski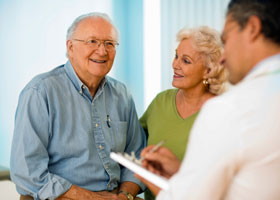 Have you ever noticed someoneís hands or head trembling slightly and they werenít aware it was happening? That individual could be experiencing a tremor. Tremors cause unintentional trembling or shaking movements in one or more parts of the body and can occur in healthy people. Sometimes nerve diseases such as Parkinson's disease or dystonia, an overactive thyroid, or certain medicines can cause them. Essential tremor, also referred to as benign essential tremor, is the most common of the more than 20 types of tremor.
Parkinson's disease is a brain disorder that leads to shaking, stiffness, and difficulty with walking, balance, and coordination. It affects about half a million people in the United States, however, it's difficult to estimate the number of individuals affected because many individuals and physicians attribute the symptoms of Parkinsonís disease to the normal aging process. The average age of onset is 60 years, and the risk of developing Parkinson's goes up with age. In addition, the disease is very difficult to diagnose because there is no test or procedure that can provide a definitive diagnosis.
The UConn Health Centerís Discovery Series presents an in-depth look at both issues Thursday, January 21, at 7 p.m. in the Keller Auditorium. Experts Dr. Adam Simmons and Dr. Patrick Senatus will present the latest information in the medical management and treatment of tremor disorders and Parkinsonís disease. In addition, information will be provided about deep brain stimulation, a new surgical procedure used to treat Parkinsonís disease.
"Deep brain stimulation, or DBS, is an excellent treatment option for patients who no longer adequately respond to first-line measures such as medications and physical therapy, or when the side effects of those treatments become too severe," says Senatus. The UConn Health Center is the only place in the Hartford area that offers DBS, which recently has been approved by the FDA for humanitarian device exemption in the treatment of obsessive compulsive disorder, and is being evaluated for the treatment of other conditions such as major depressive disorder, Touretteís syndrome, and chronic pain. Senatus, an assistant professor and director of functional and restorative neurosurgery, is fellowship trained in DBS and neuromodulation.
The Discovery Series programs are free and open to the public. Registration is required. Register online at discoveryseries.uchc.edu or call 800-535-6232.