RSS
Watch the Videos
Feature Story
Health Center Today, January 29, 2010
Dr. Robert Fuller Returns from Haiti
By Carolyn Pennington
The director of emergency medicine at the Health Center has returned from Haiti after spending two weeks there providing emergency medical care to earthquake survivors. Fuller worked as a physician-volunteer with the International Medical Corpsí Emergency Response Team and was in charge of getting a major hospital in Port-au-Prince up and running.
Carolyn Pennington, UConn Health Center Communications, talked with Dr. Fuller about his experiences in Haiti.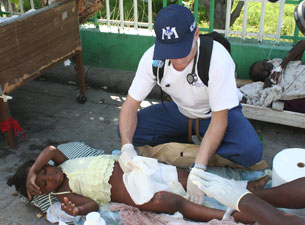 Dr. Robert Fuller providing medical care to an earthquake survivor.
Photo by Margaret Aguirre, International Medical Corps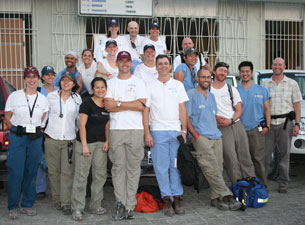 Dr. Robert Fuller with other International Medical Corp volunteers outside a Port-au-Prince hospital.
Photo by Margaret Aguirre, International Medical Corps