Feature Story
Health Center Today, January 8, 2010
Laurencin Honored by President Obama
By Chris DeFrancesco
In a White House ceremony, President Barack Obama honored 22 recipients of the Presidential Award for Excellence in Science, Mathematics and Engineering Mentoring, including Dr. Cato T. Laurencin, vice president for health affairs and medical school dean.
"We are here today to honor teachers and mentors… who are upholding their responsibility not just to the young people who they teach but to our country by inspiring and educating a new generation in math and science," Obama said. "But we're also here because this responsibility can't be theirs alone. All of us have a role to play in building an education system that is worthy of our children and ready to help us seize the opportunities and meet the challenges of the 21st century."
Obama told the award recipients, "Whether it's showing students how to record the habits of a resident reptile, or teaching kids to test soil samples on a class trip to Costa Rica; whether it's helping young people from tough neighborhoods in Chicago to become "Junior Paleontologists," or creating a mentoring program that connects engineering students with girls and minorities, who are traditionally underserved in the field -- all of you are demonstrating why teaching and mentoring is so important, and why we have to support you, equip you, and send in some reinforcements for you."
The Presidential Award for Excellence in Science, Mathematics and Engineering Mentoring, awarded each year to individuals or organizations, recognizes the crucial role that mentoring plays in the academic and personal development of students studying science or engineering.
"I am humbled and honored by this award," Laurencin said. "Mentoring aspiring physicians, scientists, and engineers has been, and continues to be, one of the most gratifying aspects of my career. On behalf of the students I have had the privilege of knowing, I am delighted to receive this award."
Laurencin has achieved national and international prominence as an orthopaedic surgeon and chemical engineering expert. He holds the Health Center's Van Dusen Endowed Chair in Academic Medicine and is a professor in the Department of Orthopaedic Surgery. He also holds an appointment in the School of Engineering as a professor of chemical, materials and biomolecular engineering. Laurencin is a Fellow of the American Surgical Association and the American Academy of Orthopaedic Surgeons and has been named to America's Top Doctors. At the same time, he has been named one of the 100 engineers of the modern era by the American Institute of Chemical Engineers and most recently received the Galletti Award from the American Institute for Medical and Biological Engineering which cited his important research in tissue engineering. Laurencin is an elected member of the Institute of Medicine of the National Academy of Sciences.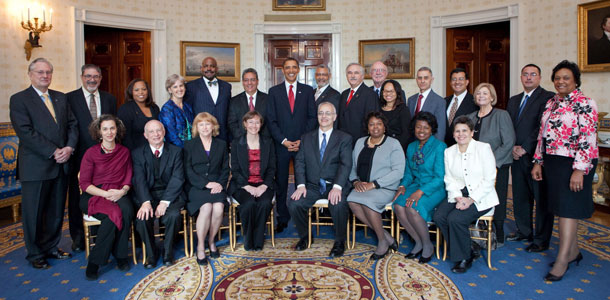 Dr. Cato T. Laurencin (back row, fifth from the left) is one of 22 math, science and engineering mentors honored by President Barack Obama (back row, center) with the Presidential Award for Excellence in Science, Mathematics and Engineering Mentoring.
Official White House Photo by Samantha Appleton