Feature Story
Health Center Today, July 29, 2010
Campus Security Cameras, Phones, Card Readers Online
By Chris DeFrancesco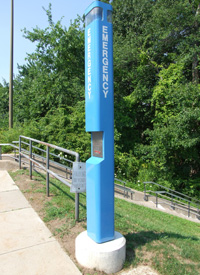 Emergency phones, marked with blue lights, are located throughout the campus. Public safety dispatch is reachable through one touch of the red button.
Photos by Chris DeFrancesco
Most of the campus emergency phones, security cameras and badge readers that were part of a $5.5 million public safety technology overhaul are in place and fully functional.
"We still have a little more to go, but the vast majority are up and running," says UConn Health Center Assistant Police Chief Ray Bouchard. "As department heads are seeing what these security enhancements can do for them, they've requested additional cameras and card readers. So we expect moving forward there will be an evolving need for this technology."
To date, nearly 250 cameras, nearly 220 access readers and 32 emergency phones are online.
"We're pleased with the progress," Bouchard says. "The cameras especially have been useful for investigating many things, from thefts to motor vehicle accidents in the parking lots."
The blue emergency phones located throughout campus dial directly into public safety dispatchers, who can keep eyes on the caller and his or her surroundings via security cameras.
Public safety officials remind members of Health Center Community to stay up to date with their identification badges. An expired badge will not unlock an area secured by a card reader. The expiration date is located below the photo on the badge.
Later this year, Health Center ID badges will be required to access gated parking areas.
"The best advice is to bring your ID home with you," Bouchard says. "We will not issue a second one for you to leave in your car."
Campus police also warn faculty, staff, students and vendors not to prop doors.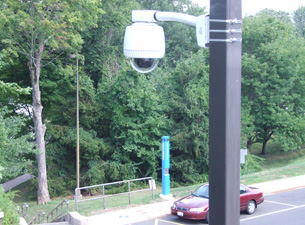 All the emergency phones are within the range of security cameras, enabling public safety officials to both hear and see the caller.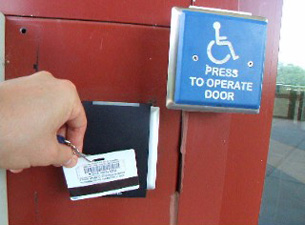 A demonstration of the ID badge readers.