Feature Story
Health Center Today, July 16, 2010
Farmers Market Back for Summer
By Chris DeFrancesco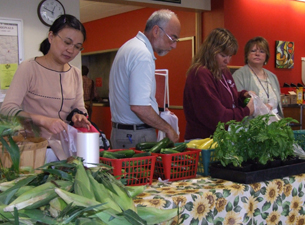 Food and Nutrition Services, through Know Better Place, has arranged for Botticello Farms, of Manchester, to hold a farmers market in the Food Court from 11 a.m. to 1:30 p.m. every Thursday for the rest of the summer.
Photos by Chris DeFrancesco
Thursdays through the end of September are farmers market days at the Health Center.
Botticello Farms, of Manchester, is offering fresh native produce every week from 11 a.m. to 1:30 p.m. in the Food Court. Regionally grown produce and locally made items like honey and jams also are available.
Corn, tomatoes, squash, green beans, onions, cucumbers, peaches, blueberries and raspberries are among the fruits and vegetables in season. Be sure to check Know Better Place's farmers market page for updates throughout the summer.