Feature Story
Health Center Today, July 26, 2010
UConn Cancer Research Golf Tournament Back for 33rd Year
By Chris DeFrancesco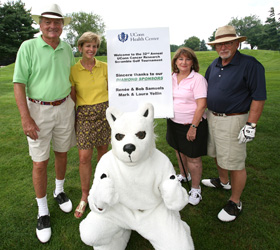 From left, Mark Yellin, chairman of the UConn Cancer Research Golf Tournament Committee, with his wife, Laura, and event sponsors Renée and Bob Samuels at last year's tournament.
Photo by Michael Fiedler
The 2010 UConn Cancer Research Golf Tournament will take place Monday, August 2, at the Tumble Brook Country Club.
Organized and run entirely by volunteers, this event is in its 33rd year and so far has raised more than $2.2 million for cancer research, prevention and education. Proceeds will help support cancer clinical trials research at the Neag Comprehensive Cancer Center.
Registration, practice and lunch start at 11:30 a.m. Shotgun start is at 1 p.m. Cocktails, dinner, awards ceremony, and live and silent auctions start at 5:30 p.m. The Tumble Brook Country Club is at 376 Simsbury Road in Bloomfield.
More information about the tournament, including how to participate, become a sponsor, or donate auction items is available by calling Christine Cappello at 860-679-4673 or emailing uchcrsvp@foundation.uconn.edu. Online registration is available through www.giving.uchc.edu.